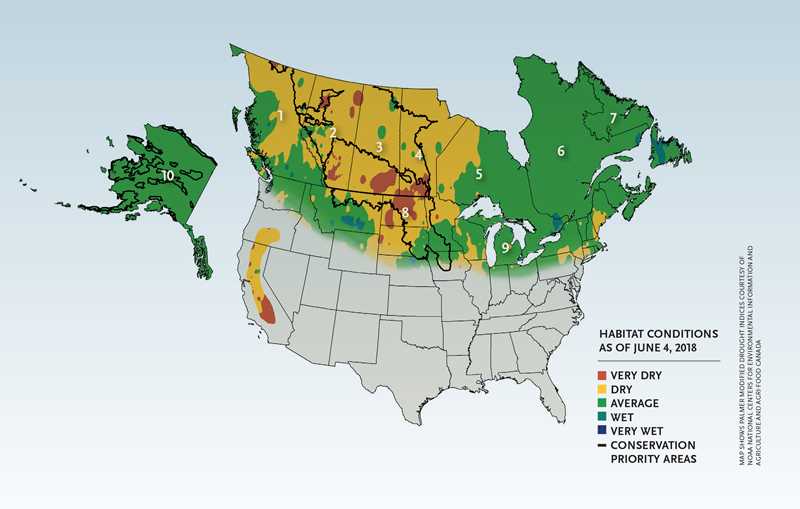 By DU Field Biologists
1. BRITISH COLUMBIA In the north and interior, cool temperatures delayed the spring runoff, and waterfowl breeding efforts were also delayed in these areas. Wetlands are full despite limited rainfall, but uplands could use additional moisture.
2. ALBERTA Spring arrived quickly after a wintry start to April. The rapid snowmelt caused some localized flooding and recharged many wetland basins. Following a delayed start, waterfowl breeding efforts were in full swing by mid-May.
3. SASKATCHEWAN In the south, a slow thaw and average runoff limited seasonal wetland habitat for breeding waterfowl in many areas. Spring fieldwork and the arrival of ducks and geese were delayed by cool weather. By early May, however, breeding efforts were well under way for early nesters such as mallards and northern pintails.
4. MANITOBA Below-average winter snowfall and spring precipitation has left many wetland basins dry or with low water levels. Spring-seeded crops and winter wheat are struggling because of the lack of moisture. Lone drake mallards were first observed in late April, indicating that nest initiation had begun.
5. ONTARIO Spring precipitation was variable in this province, resulting in generally average to good wetland conditions. Although delayed by a late thaw, waterfowl breeding efforts quickly commenced with the onset of warmer weather.
6. QUÉBEC As in other provinces, waterfowl arrived late due to cold spring weather. Average wetland conditions and the absence of major river flooding should benefit early-nesting species.
7. ATLANTIC CANADA With the exception of the Saint John River floodplain in New Brunswick, which had historic flooding in May, water levels were average across most of this region this spring, and waterfowl breeding efforts are now under way.
8. NORTH-CENTRAL U.S. Although much of the north-central United States remains dry, late spring snowfall and timely rains in parts of the Dakotas and Montana have improved the waterfowl production outlook. Additional rainfall is needed across this region to improve or sustain wetland habitats for breeding waterfowl.
9. GREAT LAKES AND NORTHEASTERN U.S. Wetland conditions across the northeastern United States and the Great Lakes are mixed, with generally dry conditions prevailing across the north and wetter conditions across the south. Duck production is expected to be fair to good in these areas.
10. WESTERN U.S. Wetland conditions range from fair to good across much of the western United States. In California, the waterfowl production outlook is much improved, especially in the Sacramento Valley, following several years of extreme drought. In Alaska, good waterfowl production is expected despite a late spring thaw.