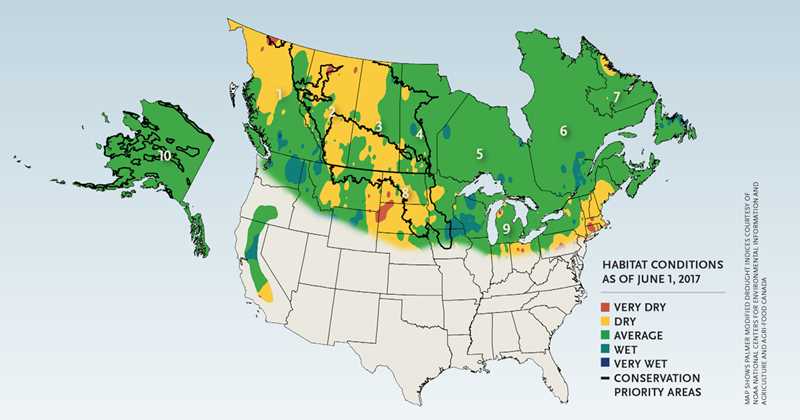 By DU Field Biologists
1. BRITISH COLUMBIA Precipitation has been above average across this province, and heavy runoff has resulted in especially wet conditions in the southern interior. Survey results indicate that waterfowl numbers are similar to last year's and a strong breeding effort is under way.
2. ALBERTA Favorable wetland conditions remained across much of this province this spring. The Peace Parkland region, which has been dry for several years, received above-average spring precipitation, improving prospects for breeding waterfowl.
3. SASKATCHEWAN Although spring precipitation was below average, many wetlands continue to hold water across this province. Ducks have returned and settled in good numbers, and based on the prevalence of lone drakes observed, a strong waterfowl breeding effort is under way.
4. MANITOBA Despite minimal precipitation in April and May, many wetland basins remain full due to spring runoff and carryover water. However, last fall's wet conditions prevented many farmers from planting winter wheat, which reduced the availability of nesting habitat for early nesters.
5. ONTARIO Above-average spring precipitation has recharged wetlands across this province, and mallards and other waterfowl are taking advantage of improved habitat conditions. Relatively cool spring temperatures have maintained an abundance of temporary wetland habitat for breeding pairs.
6. QUEBEC Western and southern portions of this province experienced a rainy spring, which resulted in flooding that may have impacted early waterfowl nesting efforts. In the north and east, precipitation and wetland conditions are near normal.
7. ATLANTIC CANADA This region received average spring precipitation, and water levels were stable on most DU projects this spring. Notable exceptions were western and northern portions of New Brunswick, where heavy rainfall caused localized flooding, which may have impacted early nesters.
8. NORTH-CENTRAL U.S. Although much of South Dakota and eastern Montana were dry this spring, prospects for breeding waterfowl were better in North Dakota, where wetland conditions were generally good for early-nesting species such as mallards and northern pintails. Following several weeks of warm, dry weather, however, timely precipitation will be needed to maintain or improve wetland habitats.
9. GREAT LAKES AND NORTHEASTERN U.S. Heavy rainfall significantly reduced long-term dryness in the northeast, while wet conditions persisted in the Great Lakes. As a result, improved duck production is expected in both these regions.
10. WESTERN U.S. In California, wetland conditions and prospects for waterfowl production are much improved following one of the wettest winters on record. Habitat conditions for breeding waterfowl are also generally good in Oregon and Washington. In Alaska, the outlook for waterfowl production is good to excellent following the spring thaw.