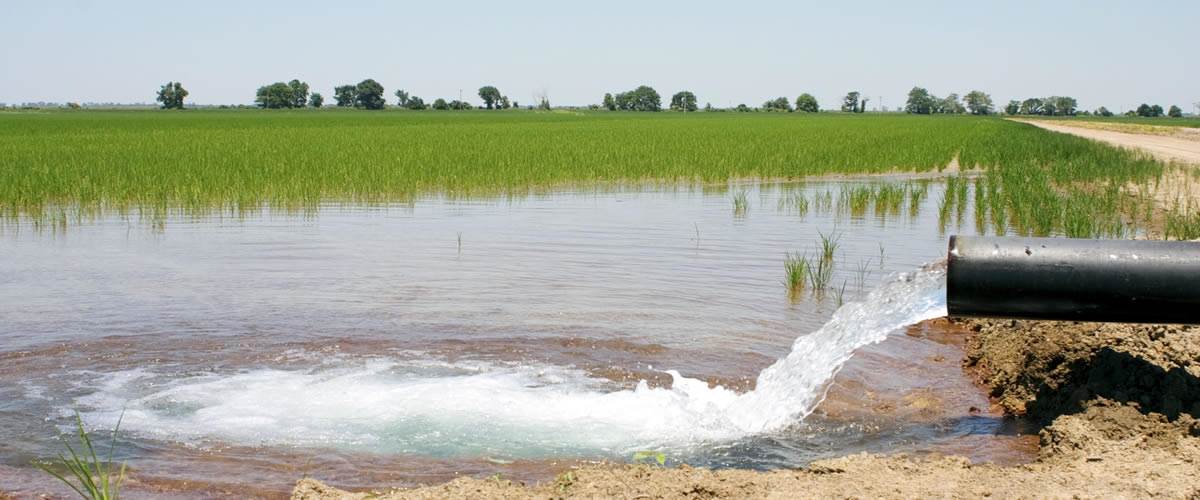 In some parts of the country, wetlands play a vital role in recharging aquifers that are important for irrigation and drinking water. Wetlands capture drifting snow and runoff from summer storms and slowly release that water to underlying aquifers. For example, playa wetlands in the southern high plains of Nebraska, Kansas, Colorado, New Mexico, Oklahoma and Texas play a critical role in replenishing and improving the famed Ogallala Aquifer. Research has shown that these shallow, temporary playa wetlands are a primary source of recharge to the Ogallala. When these wetlands dry out each year, the clay sediments crack, creating pores for water to infiltrate through to the aquifer. Runoff from rain and snow also enters the aquifer from the edges of the wetland which are more permeable than the center.
Scientists estimate that aquifer recharge rates in playa wetlands are 10 to 1,000 times higher than other surrounding areas. Recharge through playas is a continual process. Water recharging today will be available to future generations. Recharge rates in naturally-functioning playas may exceed three inches per year. Playa wetlands contribute up to 95% of the water recharging into the Ogallala annually, so it is critical that these natural resources are conserved to help sustain our livelihoods and our communities.
Ducks Unlimited and Wetlands America Trust work closely with a multitude of partners to conserve playa wetlands for wildlife, people and communities. Partners include the Playa Lakes Joint Venture; Local Conservation Districts; U.S. Fish and Wildlife Service; USDA Farm Service Agency; USDA Natural Resources Conservation Service; Kansas Department of Wildlife, Parks and Tourism; and Texas Parks and Wildlife. There is also a growing number of corporations like ConocoPhillips, Elanco Animal Health and PepsiCo investing in playa conservation to help achieve corporate sustainability goals.
Wetlands and wetland agri-systems like rice production require water to be applied in a timely manner to achieve optimal seed production. Water is commonly delivered through conveyance systems from the source to the wetlands. In areas where multiple demands place stress on limited water supplies, it is important that conveyance systems are efficient and reduce water loss. Ducks Unlimited engineers work with landowners to improve water conveyance systems so that less water is lost to the surrounding landscape as it is being transported. Similarly, DU staff work with rice producers to improve water use efficiency. These practices include precision-leveling of fields for more efficient water utilization, more efficient water control structures and on-farm water storage reservoirs. These improvements in water use efficiency increase farmer's bottom line while also making more water available for other uses like municipal drinking water by reducing waste.
A number of corporations and organizations have joined Ducks Unlimited and Wetlands America Trust to enhance environmental outcomes from rice production systems including: USA Rice, USDA Natural Resources Conservation Service; Walmart Foundation; Nestle Purina, Mosaic, Chevron, National Fish and Wildlife Foundation, Entergy, Freeport McMoRan Foundation and Anheuser-Busch.
These are just a few examples of how Ducks Unlimited and Wetlands America Trust work with landowners and partners to develop solutions to aquifer and water efficiency challenges. We welcome others who share our goals of profitable agriculture, healthy communities and environmental stewardship to join these sustainability efforts.
For more in-depth information about these programs, contact us at: ecosystemservices@ducks.org