Scot Storm Wins Federal Duck Stamp Contest
Minnesota artist captures second title with waterfowl hunting−themed painting
Not many artists in history can claim to have rendered a $40 million painting. But Freeport, Minnesotas Scot Storms will most assuredly one day be able to count himself as one. Thats because his acrylic painting of a wood duck and decoy won the 2018 Federal Duck Stamp Art Contest.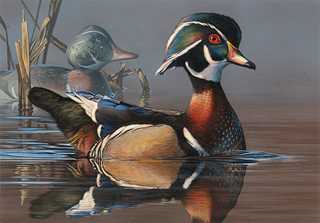 Storms painting will be made into the 2019-2020 Federal Migratory Bird Hunting and Conservation Stamp, or Duck Stamp, which will go on sale in late June 2019. The Service produces the Federal Duck Stamp, which sells for $25 and raises up to $40 million in sales each year. These funds support critical conservation to protect wetland habitats in the National Wildlife Refuge System for the benefit of wildlife and the enjoyment of people.
To recognize the contributions of waterfowl hunters, who have been instrumental in conserving our nations wildlife, all entries in this years contest were required to include depictions of one or more hunting-themed elements. Storms artwork featured a wood duck decoy.
I look forward to seeing this beautiful artwork adorning the 86th Federal Duck Stamp, said Andrea Travnicek, Acting Assistant Secretary for Fish and Wildlife and Parks, who unveiled the winning painting at this years contest. The stamp created using Scots art will serve as a lasting reminder of our rich waterfowl hunting heritage.
This is Storms second Federal Duck Stamp Contest win. His art previously appeared on the 2004-2005 Federal Duck Stamp.
Of 153 entries in this years competition, held at Springs Preserve in Las Vegas, Nevada, 19 entries made it to the final round of judging. Eligible species for this years Federal Duck Stamp Contest were the wood duck, American wigeon, northern pintail, green-winged teal and lesser scaup. View the online gallery of the 2018 Federal Duck Stamp Art Contest entries.
Frank Mittlestadt of Beaver Dam, Wisconsin, placed second with his acrylic painting of wood duck with a hunting scene in the background. Greg Alexander of Ashland, Wisconsin, took third place with his acrylic painting of lesser scaup.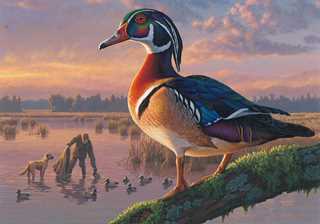 Waterfowl hunters age 16 and older are required to purchase and carry the current Federal Duck Stamp. Many non-hunters, including birdwatchers, conservationists, stamp collectors and others also purchase the stamp in support of habitat conservation. Additionally, a current Federal Duck Stamp can be used for free admission to any national wildlife refuge that charges an entry fee.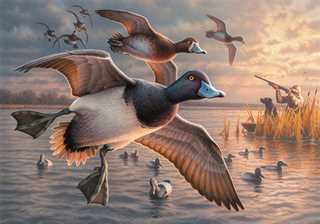 Funds raised from the sale of Federal Duck Stamps goes toward the acquisition or lease of habitat for the National Wildlife Refuge System. This year, the Migratory Bird Conservation Commission awarded $22.9 million from the fund, made up partly of Duck Stamp dollars, to support the acquisition of refuge lands from willing sellers. The new areas provide additional access to the public to some of the most spectacular places available for hunting, fishing, birdwatching, hiking and other outdoor activities.
You can contribute to conservation and Americas great outdoors tradition by buying Federal Duck Stamps at many national wildlife refuges, sporting goods stores and other retailers, through the U.S. Postal Service, or online at http://www.fws.gov/birds/get-involved/duck-stamp/buy-duck-stamp.php.