Time to fight for a 2013 Farm Bill
The U.S. House of Representatives will begin debating the
2013 Farm Bill
this week. Ducks Unlimited is asking for your help in telling legislators they must support
Rep. Mike Thompson's amendment to re-couple crop insurance
and then pass a five-year bill.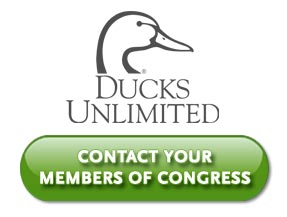 Ducks Unlimited has invested a significant amount of time and effort on the farm bill over the last year as one of our top policy priorities. There is a crisis in the Prairie Pothole Region from rapid loss of wetland and grassland habitats from land conversion to agriculture and other uses. It is vital that we do everything we can to ensure national agriculture policy provides a safety net for our natural resources, as well as our farmers and ranchers. The recently passed Senate farm bill accomplishes both of those objectives.
While DU advocated for a stronger conservation title than what is presently in the House farm bill, it is crucial for the House to pass a five-year bill. Once both houses of Congress have passed a 2013 Farm Bill, the two bills will be brought into conference to reconcile the differences. DU and the rest of the conservation community will have the opportunity to advocate for a stronger conservation title during this process.
Help us protect our nation's remaining wetlands and grasslands
by asking your congressman to vote yes on Rep. Thompson's amendment and encouraging final passage of the 2013 Farm Bill.
You can also call your House members using the U.S. Capitol switchboard at (202) 224-3121.
Thank you for your help in passing a comprehensive farm bill that includes conservation priorities.