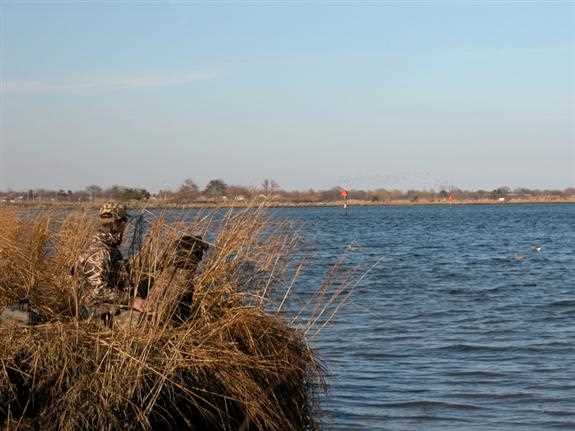 And actions DU supports to realize those protections
To maintain waterfowl populations, hunters and other conservationists must conserve and protect the waters and wetlands these birds depend on during breeding, migration, and wintering periods. At the same time, conservationists must work with our farming and ranching partners to ensure that they are not burdened by new permitting requirements or restrictions on their normal agricultural practices.

The Clean Water Act once provided safeguards for vital waterfowl habitats, including prairie potholes. However, Supreme Court decisions have resulted in the removal of protections for tens of millions of acres of prairie potholes, playa lakes, and other wetlands essential to waterfowl. Bringing clarity and certainty to the conservation of our waterfowl resources and the preservation of our shared waterfowling heritage is critical for future generations.

In response to requests from the public, Congress, and Supreme Court justices for more clarity on Clean Water Act protections, the Environmental Protection Agency (EPA) and U.S. Army Corps of Engineers (USACE) recently released a proposed rule that is intended to be consistent with and implement the Supreme Court decisions. The proposed rule states as its intent to clarify which waters and wetlands are under the jurisdiction of the Clean Water Act, and which are not.

The EPA and USACE are seeking public comments about the proposed rule. Ducks Unlimited will submit science-based information that clarifies the nature of prairie pothole wetlands and their importance to North America's waterfowl populations, and validates their significant connection to navigable waters (which is the test for jurisdiction set by the Supreme Court). Waterfowl hunters, other conservationists, and all stakeholders are invited to submit comments as well. The talking points below may prove helpful as you formulate your comments. It is especially important for waterfowl hunters to emphasize that:
Science demonstrates that the final Clean Water Act rule should restore protections to prairie pothole wetlands – especially in the critical breeding grounds encompassed by the Prairie Pothole Region of North Dakota, South Dakota and eastern Montana. The draft version of the proposed rule does not currently protect these important wetlands.
The final rule should not place restrictions on normal agricultural activities, which are currently exempt under the CWA for farming, ranching and forestry. The draft version of the proposed rule attempts to validate and make more explicit the exemptions for normal agricultural practices, and it's important that the final rule is clear about this.
It's also important that we act during the comment period and voice our concerns to protect DU's historic and critical investment in the Prairie Pothole Region on behalf of waterfowl, waterfowl hunters and our conservation-minded partners in the agricultural community.

Some facts to consider:
Many waterfowl breed in or near small wetlands because these wetlands (prairie potholes) provide essential resources. Most of these wetlands currently are not protected against draining or filling, and the rate of recent wetland loss has accelerated by 140 percent, with much occurring in the Prairie Pothole Region.
Loss of the most at-risk wetlands in the Prairie Pothole Region of North and South Dakota could result in a 40 percent loss of breeding pairs of waterfowl from that region. Past loss of wetlands in Iowa and Minnesota resulted in more than a 90 percent reduction in waterfowl production capacity from that portion of the pothole region.
A recent study documented that the Prairie Pothole Region lost more than 95,000 acres of emergent wetlands between 1997 and 2009.
Nearly two out of every three mallards harvested in the United States are produced in the Prairie Pothole Region.
If faced with continued uncertainty regarding wetland conservation and protection, shorter waterfowl hunting seasons and smaller bag limits could become a reality.
Migratory bird hunting produced nearly $3.4 billion in retail sales in 2011 and supported 68,827 jobs, according to a recent Southwick and Associates study.
The proposed rule would:
Establish a more science-based process to decide which wetlands qualify for categorical restoration of longstanding protections. To support restoration of protection to the prairie potholes and other wetlands most important to waterfowl populations, DU will provide science-based comments that document the link between geographically isolated wetlands and downstream waters.
Clarify which wetlands and other waters would and would not be jurisdictional, thereby streamlining permitting processes where required.
Not require a permit for duck blinds or other normal hunting practices directly related to duck hunting. In fact, the proposed rule acknowledges the importance of hunting and fishing as economic drivers and valued, conservation-based, recreational activities.
Maintain, clarify and strengthen the agricultural exemptions from CWA permitting, thus providing important protections for normal farming, forestry, and ranching activities, such as plowing, seeding, cultivating, minor drainage, harvesting for the production of food, fiber, and forest products, or upland soil and water conservation practices. Private landowners, including conservation-minded farmers and ranchers, are the most significant partners DU has to work with on behalf of wetlands and waterfowl.
The EPA and U.S. Army Corps of Engineers are currently accepting comments regarding this important proposed rule through October 20, 2014.

Go to https://www.ducks.org/cleanwater to find out more about the proposed rule, or to submit your own comments to the EPA.