Greentree Revival
DU is helping the Arkansas Game and Fish commission restore and protect the state's legendary flooded timber
by Jennifer Boudart
Arkansas is internationally known as a mecca for duck hunting. Each year thousands of duck hunters visit the state from all over the world. Many are drawn by the unique opportunity to hunt ducksmainly mallardsin the state's storied flooded timber. In most years, forests in river floodplains attract more wintering mallards to Arkansas than anywhere else in North America. When the woods flood in fall and winter, mallards and other dabbling ducks settle in to feast on a nutritious soup of acorns, seeds, and invertebrates that are within easy reach in shallow-flooded areas. The flooded forest also provides warmth and shelter the birds need to rest, rebuild energy stores, and strengthen their pair bonds.
Hunters have public access to 50,000-plus acres of seasonally flooded timber on more than a dozen wildlife management areas across the state. Owned and managed by the Arkansas Game and Fish Commission (AGFC), these impounded tracts of bottom-land hardwood forest are known as greentree reservoirs. Ranging from a few hundred to thousands of acres, these popular hunting areas are divided into units that are intentionally flooded in the fall and hold water until late winter. Greentree reservoirs have traditionally been flooded in time for opening day of duck season in late November, providing reliable habitat for ducks and excellent hunting opportunities for waterfowlers.

Unfortunately, while conditions in many greentree reservoirs have long been reliable and predictable, it's now clear they're no longer sustainable. Over the last few decades, the AGFC has documented a decline in the health of these managed habitats. Species of red oaks that produce acorns preferred by feeding ducks, such as Nuttall and willow oaks, have been dying off, and more water-tolerant species that are less beneficial to waterfowl have started to replace them. These changes have occurred due to a variety of factors that have altered the frequency, timing, duration, and depth of flooding.
Saving Arkansas's storied greentree reservoirs is crucial not only to ducks, but also to the state's hunting heritage and economy. In addition, these efforts will maintain and increase the ecological services that these managed habitats provide, including reduced flooding, improved water quality, and carbon sequestration. To chart a course for a more sustainable future, the AGFC has launched a statewide initiative to evaluate and rehabilitate more than 40 greentree reservoirs on public lands over the next decade and beyond. Ducks Unlimited quickly came on board as a major partner in this effort.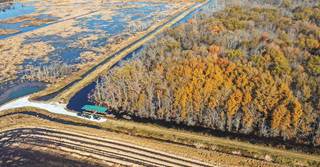 "This initiative is right in DU's wheelhouse because it connects with our mission in so many ways," observes Tim Willis, DU's manager of conservation programs in the Mississippi Alluvial Valley. "It's restoring bottomland hardwood habitat, which is essential to wintering waterfowl and other wetland wildlife. It's providing ecological goods and services. And it addresses the human dimension of conservation by providing opportunities for people to hunt ducks and enjoy other outdoor activities on public lands."
DU is partnering with the AGFC on several greentree renovation projects, conducting topographical surveys and engineering work and replacing outdated water-management infrastructure. Creating longer spillways and installing higher- capacity water-control structures in levees, for example, will help move water off more efficiently to prevent trees from being flooded too long while also fostering the regrowth of beneficial red oak species.
To help cover the cost of this initiative, DU is actively raising funds from a variety of sources. According to Corey Dunn, DU's director of development in Arkansas, Ducks Unlimited has been awarded three $1 million grants and one $2 million grant from the North American Wetlands Conservation Act (NAWCA) for greentree renovation projects that are currently under way.
Dunn is working with individual major donors as well as corporate and foundation partners. He notes that most of the 70 or so donors who have lent support to the initiative live in Arkansas, but financial help has come from out of state too. For example, the Mississippi-based Walker Foundation has been a key supporter of DU's recent work in Arkansas. The AGFC has contributed major funding support as well, providing $1.7 million to complement NAWCA funds for ongoing restoration work at Henry Gray Hurricane Lake Wildlife Management Area. DU recently pledged to raise $5 million in private funds over the next 10 years, which will be leveraged to secure additional federal funding through NAWCA and other programs.
DU's policy team is actively involved in identifying state and federal funding support for these efforts. Ed Penny, director of public policy in the Southern Region, says DU's approach to policy engagement has always been science based and bipartisan. "As a result, we've been able to build support among the entire congressional delegation of Arkansas and from the governor," he notes.
In addition, DU staff and volunteers are assisting with public outreach by attending AGFC public meetings and helping to coordinate tours of greentree reservoirs. Educating hunters is especially important to help them understand the need to change how the areas are managed and what those changes will look like. For example, the AGFC has committed to flooding greentree reservoirs later in the fall; maintaining shallower water levels as much as possible; and varying flooding conditions, including allowing some units to periodically remain free of artificial flooding.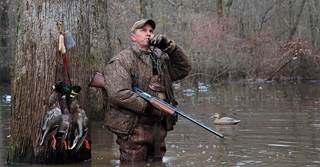 Luke Naylor, waterfowl program coordinator with the AGFC, understands that these changes will require duck hunters to make adjustments. "We've created this expectation of reliable hunting opportunities on greentree reservoirs for decades now," he explains. "The hunting will still be reliable, but it's going to be a bit less predictable."
Naylor says hunters can keep informed about hunting opportunities in greentree reservoirs on the agency's website. "We want to walk right alongside hunters throughout this whole effort," Naylor stresses. "We need the help of hunters and partners like DU for these habitats to persist another 50-plus years and for multiple generations to be able to enjoy these legendary hunting areas."
Conserving Arkansas's Flooded Timber Legacy
Ducks Unlimited is working with the Arkansas Game and Fish Commission on greentree reservoir (GTR) renovation projects on two popular wildlife management areas. At Henry Gray Hurricane Lake Wildlife Management Area, phase one of construction is under way to clear major drains within the former South GTR and replace them with longer spillways and higher-capacity water-control structures. Similar renovation work is also in progress at Earl Buss Bayou DeView Wildlife Management Area on the Thompson Tract and South Oliver GTRs. These efforts are already paying off. Significant red oak regeneration has already been documented in renovated areas, demonstrating the effectiveness of ongoing restoration techniques.
Crucial support for Arkansas's GTR renovation initiative has been provided by the George H. Dunklin Jr. Family Foundation; Walker Foundation; State Farm: Dennia Beard, Dennis Bost, Pat Frizzell, Charlotte Potts, and Chad Winn; Bank of Brinkley; Maxwell Hardwood Flooring; Mack's Prairie Wings; Riggs Caterpillar; A Natural State Funeral Service; Stracener Brothers Construction; Roberson Tire; Delta Land Management Company, LLC; JTown's Grill; Apex Marketing and Sales; P& Benefits Group; and Union Bank.