Conservation Success Stories
These landowners are providing habitat that benefits waterfowl up and down the flyways
By Eric Keszler
In the 1989 movie Field of Dreams, a mysterious voice compels Ray Kinsella (played by Kevin Costner) to build a baseball diamond on his Iowa farm. In the real world, far from the dramatic excesses of Hollywood, many modern landowners hear a similar callnot to build baseball diamonds, but to conserve wildlife habitat on their property. Farmers, ranchers, and owners of sporting properties are some of the most important stewards of our continents wildlife habitats. They feel a strong connection to the land and a responsibility to keep it healthy for wildlife and people.
Because meaningful conservation work can be expensive and complex, it may seem out of reach, especially for owners of smaller properties. Fortunately, there are a number of programs that provide incentives to landowners who are interested in restoring, enhancing, and protecting wildlife habitat. Unlike Kinsella, whose exploits nearly cost him the family farm, landowners can participate in these programs at a relatively low cost.
Following are four stories of landowners who have worked with Ducks Unlimited and others to make a difference for wildlife.
Bill Woods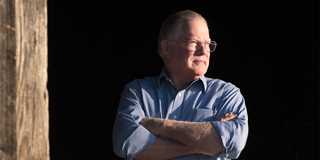 San Joaquin Valley, California
Bill Woods remembers hanging around the Gable Land and Cattle Company Duck Club in the 1960s, when he was just a youngster. Woodss father was a member then, and some of the original members, who had bought the 1,000-acre property in 1925, were still around. Bill joined in 1978, and today he and the clubs 30 other members, including the third generation of several Gable families, are embarking on the most ambitious improvement project in their history.
The club is part of Californias Grassland Water District (GWD), a 75,000-acre remnant of what was once a half-million-acre wetland in Californias San Joaquin Valley. Roughly 55,000 acres in the GWD are owned by 160 private duck clubs, which are protecting and managing some of the last remaining habitat in this vital region for Pacific Flyway ducks, geese, and other migratory birds.
Before 1925, the Gable property had been an irrigated grain farm, supplied with abundant surface water. Those fields reverted to wetlands and were kept flooded nearly year-round. By 1985 much of the historical water had dried up, and management shifted to moist-soil habitat, with occasional spring irrigation and many parched ponds in summer. Club members learned from experience that careful management of their limited water throughout the year produced better habitat. Success depends on having a reliable supply of good water and the ability to get it on and off our ponds efficiently when conditions dictate, Woods says.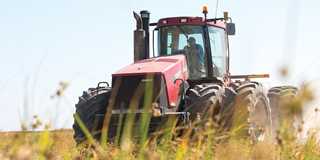 Club members worked with Ducks Unlimited to secure two North American Wetlands Conservation Act (NAWCA) grants to improve infrastructure on the property and upgrade management capabilities. Additional funding for the project is coming from the GWD and the Waterfowl Environment Preservation Organization. This summer, work began at the club to develop swales, improve canals, and replace water-control structures on about 500 acres. Future plans include brood ponds, upgrades to water conveyance and drainage, and planting native tree and grass species. With these improvements, we will provide better habitat and grow more food using the same resources, Woods says. Everyone involved with Gable is eager to continue this journey, with Matt Kaminski from Ducks Unlimited and our club manager Zach Taber leading the charge.
For a duck club with such a rich history, bringing about positive changes can be rewarding work. Woods expects to see improvements in the clubs hunting as well as overall benefits to wildlife year-round. These are opportunities and responsibilities, Woods says. Gable members share the values of hunter-conservationists around the world. Of course, we enjoy good duck hunting, but its even more gratifying to know that weve all been part of keeping this marsh alive. This place has been so good to us. It is our duty to leave it better than we found it.
Mike and Elliot Bohling
Western Lake Erie Marsh, Ohio
Mike Bohling claims to have grown up with webbed feet. Since he was 10 years old, he has lived in a house deep within the expansive marshes of southwestern Lake Erie, a region that is extremely important to migrating, breeding, and wintering waterfowl in the Mississippi Flyway. In 1964, Mikes father, Don Dutch Bohling, put down a $20 deposit to buy 100 acres, moved his family to the marsh, and began developing year-round outdoor traditions that continue today.
The Bohlings property is about three-quarters of a mile from Lake Erie and shares a border with a unit of Ottawa National Wildlife Refuge. Duck clubs are abundant throughout the region, including the Winous Point Shooting Club, which was established in 1856 and is the oldest continuously operating duck club in North America. In many cases, these clubs are the last line of defense against development in the marsh.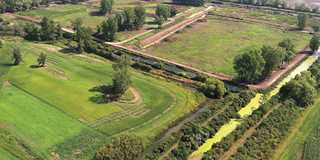 Three generations of Bohlings have been involved with the property since Dutch plunked down his $20. Its so much more than just a place to hunt ducks, says Mikes son, Elliot. Its become a magnet for anything outdoors.
In 1964, the property was already in need of dike work and other improvements, but it wasnt until five or six years ago that the Bohlings began working with Ducks Unlimited and the US Fish and Wildlife Service to rebuild dikes and water-control structures, clear trees, and deal with the invasive plant species (including purple loosestrife and phragmites) that had overtaken much of the marsh. Their first project restored and enhanced habitat on 30 acres of the property, and theyre currently in the middle of a project to improve an additional 30 acres.
Since were small-time and trying to do it on our own, the technical support DU provides has been invaluable, Mike says. Its amazing to see what can happen when multiple partners pull together for the common good.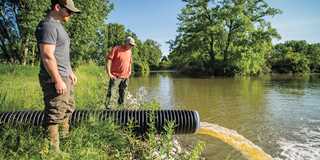 The Bohlings have enjoyed improved hunting on the property. Its pretty unbelievable whats happened in the past five or six years in the marsh, Elliot says. And it seemed to change instantaneously . . . like a light switch. They are especially proud of the ecological benefits provided, including cleaner water, flood retention, and habitat for hundreds of wildlife species.
Like many conservationists, the Bohlings want to leave a legacy. Its hard to be there and not think about Dad and Grandpa and all the people who have hunted there, Elliot says. It gives you goosebumps. Were hoping we can keep it going and pass it on to the next generation.
Pat and Donna Gross
Prairie Pothole Region, South Dakota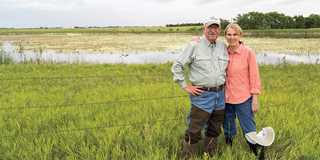 Pat and Donna Gross describe their property in northeastern South Dakota as being in the exact middle of the Duck Factory. The landscape, Pat says, is rolling hills, very fertile soils, and potholes everywhere, though a lot less than there used to be. The 320-acre property is surrounded on four sides by tillable acres, making it a haven for wildlife in this heavily farmed region.
Pat and Donna have been working to improve habitat here for years, focusing primarily on wetlands and grasslands for waterfowl production. Since the homestead days of the late 1800s, the property has been used for agriculture, but 20 years ago the Grosses converted the marginally productive portions of the property to wildlife habitat. With some of the acreage enrolled in the Conservation Reserve Program (CRP), they planted native grasses and several thousand trees. And in 2018 they enlisted the help of Ducks Unlimited to build a dam to hold water on the landscape during the waterfowl nesting season. DU used money from a NAWCA grant to help fund the project.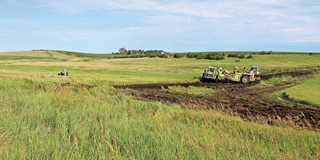 In our first year after completion of this project, spring moisture completely filled our new basin and meaningful numbers of ducks have frequented the site, including pintails and divers like ruddy ducks and redheads, Pat says. We also know that we have good numbers of nesting blue-winged teal.
Pat has been an avid outdoorsman all his life and a waterfowler since 1953. During those years he has witnessed large-scale changes to the landscape, including the conversion of native prairie grasslands and wetlands. Weve seen an exceptional amount of wetland draining going onat the expense of habitat, he says. We encourage farmers to look at all the benefits of sustainable management. We add value to the land when we take marginal land out of production and use it for wildlife habitat.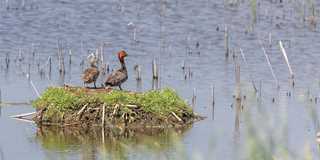 In the heart of some of North Americas most important breeding and nesting habitat for ducks, Pat and Donna Gross are proud of their conservation work and hopeful for the future. The idea that weve worked on something like this that benefits the land is very rewarding, Pat says. Our hope is that more landowners will understand that good land stewardship benefits everybody.
Grant Brabham
Mississippi Delta, Mississippi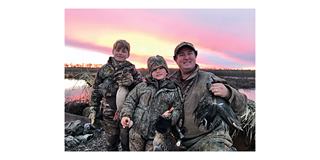 Grant Brabham calls his hunting property in Yazoo County, Mississippi, his happy place. The property sits at the southern end of the Mississippi Flyway, in an area that is vitally important for wintering waterfowl. Brabham describes the location as where the Delta meets the hill country. The landscape is dominated by agricultural fields, timber, ponds, brakes, and commercial catfish operations.
Brabham and his partner purchased 250 acres here in 2014, after leasing the property for about 10 years. Today, they also lease approximately 2,500 additional acres that adjoin their property. We purchased the property because we had been hunting there so long and had made hundreds and hundreds of memories there, Brabham says. Plus, its close to home, and I wanted somewhere close where I could take my kids often.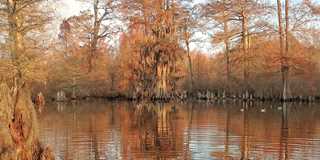 Working with the US Fish and Wildlife Service Partners for Fish and Wildlife Program, Brabham began installing pipes, water-control structures, and levees, and now he can control water on about 1,200 acres. Much of the land that was formerly in agriculture has been replanted with trees, and one converted agricultural field is now a resting area for waterfowl.
Programs offered through the federal Farm Bill have also been important in restoring and protecting habitat on the property. When Brabham first acquired the land, about 70 acres were enrolled in CRP. He has increased the number of acres in CRP to 250. He is also currently working to get all 250 acres protected with a Wetland Reserve Easement through the federal Agricultural Conservation Easement Program.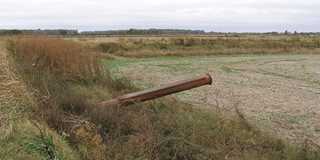 To make an even larger impact, Brabham and a group of a half dozen other landowners are cooperating to improve habitat over a significant number of acres in the region. Ducks have used this area historically, Brabham says. Were trying to provide more habitat for more and more birds. These programs are helping us broaden the footprint of habitat that these birds can use.
As a result of these habitat improvements, Brabham has seen more wildlife on the property and has enjoyed more consistent hunting. But, he says, the real rewards are much broader. The biggest thing for all of us is spending time with friends and family doing something we love, he says. Were making memories. The more enhancements we can make to the property, the better those experiences will be.