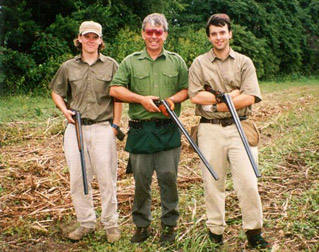 Anyone from Memphis, Tenn., can tell you that "Henry Morgan" is a name well known and well liked. President of Boyle Investment Company, a development company started in Memphis in 1933, Henry Morgan has had a finger on the pulse of his hometown for many years, and it is very important to him that the pulse is strong. He and his brother, Allen, have long been involved in Conservation Through the Arts, a collaboration between Ducks Unlimited and ArtsMemphis designed to get children out into nature. "Both conservation of game and the arts are so important to quality of life," Morgan said.
Morgan describes his strongest memories as those of the camaraderie surrounding duck hunting. "I have enjoyed being with the friends I have made," he said. "You appreciate that more with age." He especially enjoys hunting with his sons, Henry Morgan Jr. and Bayard Morgan, as often as they can. "It's a real common ground," Morgan said of hunting with his sons.
Though rumors of his hunting 365 days a year are exaggerated, Morgan confesses he does get to spend quite a bit of time in pursuit of his passion. He attributes many of these opportunities to his tolerant and loving wife of 41 years, Snowden Boyle.
Henry is a member of Ward Lake, Bobo Brake and Nail's Bayou hunting clubs, all of which have donated conservation easements to Ducks Unlimited, securing prime Mississippi River bottomland hardwood habitat in perpetuity. He is also currently working on donating a conservation easement on Blackfish Bayou Club, a property managed specifically for waterfowl and doves. A Diamond Heritage Sponsor, he has participated in Ducks University and seen first hand the importance of the prairie breeding grounds. Henry also serves as co-chair of fundraising for the Mid-South, motivating supporters in Mississippi, Louisiana and Arkansas to contribute to DU's Wetlands for Tomorrow campaign.
In addition to his support of DU, Henry is on the board of several organizations including the Boy's Club of Memphis, Memphis Arts Council, Memphis University School and Memphis Area Chamber of Commerce. He is vice-chairman for the Chamber and is a board member and chairman of Trezevant Manor-Allen Nursing Home. He is also a member of the Memphis Sport and Shooting Association and Cherry Oak Sporting Clays.