By Chris Jennings

Theophilus Nash Buckingham is revered in the world of outdoor literature. His tales of gun dogs, waterfowling adventures, and characters that defined turn-of-the-century sportsmen enlightened literary communities and outdoor enthusiasts alike.

Buckingham completed nine books, many of which were compilations of his hundreds of printed articles for publications such as Outdoor Life and Field & Stream. His vivid memory and ability to translate the southern vernacular into print made his writings all the more unique and believable. Buckingham called Tennessee his home, and many of his stories took place around Memphis, where Ducks Unlimited is headquartered today.

This special daylong tour of Buckingham's old haunts is perfect for avid waterfowlers passing through this area or hunting locally, highlighting the culture, landscape, characters, history, and waterfowling traditions of the Mid-South region.

So, grab your GPS device and take a trip down the Nash Buckingham Trail.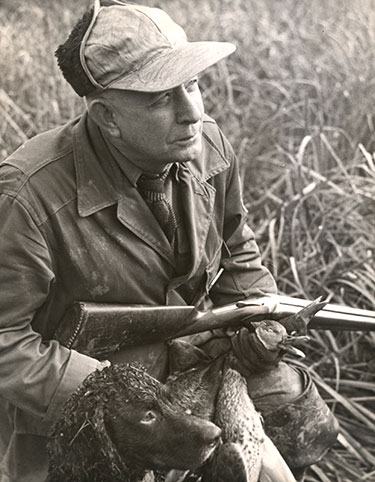 Stop 1: Bo Whoop I
See Buckingham's Prized Shotguns, Bo Whoop I and II
Ducks Unlimited National Headquarters 1 Waterfowl Way, Memphis, TN 38120
"I watched him rake mallards out of the high air above the tallest timber, with a skill no other man has shown me in a lifetime of wandering for sport." —Capt. Paul Curtis, gun editor of Field & Stream (1919–1934)

Nash Buckingham's fabled Burt Becker HE Grade 12-gauge Super Fox — commonly known as "Bo Whoop" — is the most famous waterfowling firearm in history. The combination of Buckingham's keen eyesight, Bo Whoop, and 3-inch copper-plated 4s reigned supreme in the duck woods for years. The significance of this prized gun lies in not only its connection to Buckingham and his writing, but also the mystery behind the gun's disappearance along a muddy Arkansas road in 1948 and its absence for nearly 60 years afterward.

Bo Whoop resurfaced in Georgia in 2006 and after a lengthy verification process, was sold at auction in 2010 for $201,250. The buyer was Hal B. Howard Jr., whose father was a personal friend and hunting companion of Buckingham's. In fact, many of Buckingham's stories featured the pair decoying ducks, flushing bobwhite quail, and pursuing geese along the Mississippi.

Howard generously donated Bo Whoop to Ducks Unlimited's national headquarters in Memphis, where the historical firearm is proudly displayed alongside Bo Whoop II, Nash's replacement gun after the original was lost. Nearby the gun case, you will find a diorama of Buckingham and Howard sitting at a table inside the Beaver Dam Duck Club. This picturesque scene depicts the typical post-hunt evening for Buckingham, as he touched up his day's notes by lantern light. Also on display are the original Beaver Dam log book, hats, signed first-edition copies of several of Buckingham's most popular books, and an assortment of other collectibles.

Before you leave DU's headquarters, make sure to ask the receptionist on duty for a building tour and learn more about the history of the organization and its conservation efforts.



Stop 2: Buckingham's Gravesite
Elmwood Cemetery
824 S. Dudley St. Memphis, TN 38104
Buckingham died in Knoxville, Tennessee, in 1971, but his remains were returned to his Memphis birthplace, where his many outdoor adventures began. You will find his gravesite inside Elmwood Cemetery, which lies on an 80-acre stretch of land inside the city limits and is listed on the National Register of Historic Places.

The cemetery's bridge entrance serves as a gateway to the Mid-South region's history. Elmwood holds the keys to historical Memphis and the north tip of the Delta, from the mass graves following the yellow fever outbreak to illustrious Civil War leaders and famous musicians.

A stop at the cemetery historian's office—on your left after crossing the bridge—will help you quickly find directions to the Buckingham family plot, but the map below will serve as a guide. If you have a few extra minutes to spare, look for the grave of William Arthur Wheatley, a founding member of the Beaver Dam Duck Club and Wapanocca Outing Club and a good friend of Buckingham's father, Miles. Wheatley appears as a key character in many of Buckingham's stories.
Stop 3: "Limb Dodger"
Historical journey through the North Delta
Tunica Museum 1 Museum Blvd. Tunica, MS 38676
For this leg of the journey, most navigation systems will guide you down I- 55 South to I-69, which is much faster and intersects with Highway 61 just north of Tunica. In his writing, Buckingham often described the comings and goings of the "Limb Dodger" from his beloved Beaver Dam Duck Club. This massive steam engine on the Illinois Central Railroad carried early waterfowlers to points south of Memphis and, as it traveled, sometimes clipped the limbs of overgrown trees, earning the nickname it carries today.

While it's no longer possible to ride the old Limb Dodger or visit the now privately owned Beaver Dam club, this stretch of the tour will get you close. Take Highway 61 south out of Memphis and you'll find yourself on a very similar route to that taken by the old train, leading you to stop 4 on the tour. (If you're feeling adventurous, Old Highway 61 more closely follows the original Illinois Central Railroad route.)

Once on Highway 61, imagine the skies dark with waterfowl and the land largely uninhabited outside of bears, wild turkeys, and quail. It would have been a tough place to hunt or explore when Buckingham's father first traveled to the area in 1882. As so often happens, timber harvesting, drainage, development, and agricultural efforts have left today's Tunica County a shell of the wild landscape that once was.
Author's Note: Along Highway 61, you'll find an Illinois Central Railroad train depot from 1895, which has been transformed into the Gateway to the Blues Museum and Visitor Center. This depot was once the Dundee, Mississippi, stop for the Limb Dodger, 10 miles south of Beaver Dam Duck Club.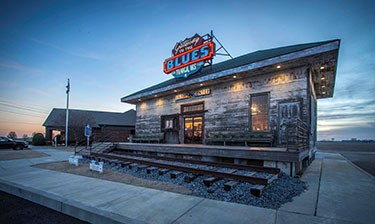 Just outside the Tunica city limits is stop 3: the Tunica Museum. Covering the full breadth of the region's history, the museum features artifacts from the Mid-South's earliest Native American inhabitants through the Civil War, and into what is now a thriving casino- and agriculture-driven community.

Avid Buckingham fans will appreciate the early 20th century history, as it provides a look at the land, people, and culture in many of his stories. A glass case near the back of the museum features several first-edition copies of Buckingham's books, waterfowling firearms, and multiple waterfowl mounts donated by Buckingham's friend, Dr. William "Chubby" Andrews. Also on display is a sign thought to be the only remaining relic of Buckingham's Sporting Goods Store, which once sat on North Main Street in downtown Memphis.
Stop 4: Delta Lunch
Where Mr. Buck used to dine
The Blue and White Restaurant 1355 U.S. Hwy 61 N Tunica, MS 38676
During duck season, finding parking amidst the armada of trailered four-wheelers and muddy pickups is the most trying aspect of a Blue and White Restaurant dining experience.

Buckingham frequented the Blue and White with Dr. William "Chubby" Andrews, a member of the Beaver Dam Duck Club who befriended the much older Buckingham in the 1950s. For several years, Andrews would pick up Buckingham in Memphis and they would travel to the club together, stopping at the Blue and White for a pre- or post-hunt meal.
Stop 5: Goose Camp
Experience the Mississippi River
Tunica Riverpark Museum 1 Riverpark Dr. Robinsonville, MS 38664


Author's Note: After you leave the Blue and White, don't hesitate to take Perry Road toward the Tunica Riverpark Museum. This back road winds through the agricultural country at the base of the Mississippi River levee. These roads didn't exist when Buckingham and his crew set out in their mule-drawn wagons for the 8-mile trek to their goose camp, but odds are, you're not far off their original path.


While there are no Buckingham exhibits at the Tunica Riverpark Museum, navigational river maps make it appear that his goose camp would have been just south of the museum. His relationship with the river also makes this stop a must-see. Through Buckingham's stories, you will get a sense that you are standing alongside him before dawn, digging a goose pit on a sandbar as the heavy currents of the mighty Mississippi swirl on either side.


"Oldest maps and pilots of today still designate our campsite as at the head of Idelwild bar. My binoculars reveal down-river Rabbit Island of the same name as we first shot on it in 1892." —Nash Buckingham, Game Bag


The museum's introduction to the Mississippi and the role it has played throughout our nation's history explains why Buckingham thought so highly of the river. Its unnerving power and unpredictability have been corralled by the ingenuity of man.

Maps throughout the museum offer visuals of a river once wild and serpentine as it wound through the north Delta. Many of the areas where Buckingham's keen eyes peered from a pit to witness distant lines of Canada geese no longer exist because of radical development of the region.

Perched on the museum's third-floor observation deck overlooking the river, one could imagine launching a skiff, heavy with decoys, and paddling to reach the other side. If the river is low enough, the west side of the river provides a glimpse of a massive sandbar, similar to the sandbars where Buckingham, Hal Howard, and Horace dug goose pits by torchlight.

Massive flights of Canada geese no longer frequent this stretch of the Mississippi, yet; in the fall, flocks of ducks and light geese can be heard chattering overhead.

The vastness of the river leaves visitors in awe of its natural capabilities, and to this day the gurgle of river water still excites even the savviest of wildfowlers.
Stop 6: Bass Pro WHC
Waterfowling history
1 Bass Pro Drive Memphis, TN 38105,
The DU Waterfowling Heritage Center encompasses 4,600 square feet of space on the second floor of the Memphis Bass Pro Shops at the Pyramid.

Along with the organization's history, the Waterfowling Heritage Center offers a glimpse of early waterfowl hunting tools – from Native American's to todays decoys and firearms. Turn of the century waterfowling gear, well known to Buckingham readers, can also be seen.

Classic hand-carved decoys, duck calls, live decoy rigs, large-bore firearms, and even Buckingham's own Winchester Model 21 side-by-side 12-gauge given to him by John M. Olin, then president of Olin Industries, which was a consolidation of Western Cartridge Company, Winchester Repeating Arms, and another Olin Corporation, for being selected as the 1963 Outdoorsman of the Year. The Waterfowling Heritage Center also features a diorama of Wapanocca Outing Club, including a skiff known to be used by Buckingham himself.

The world's tallest free-standing elevator will whisk you to the top of the Pyramid, where you can enjoy breathtaking views of the Mississippi River and once again, imagine the untamed river Buckingham described so many times.

Ironically, the Mid-South's largest outdoor retail location sits not far from where Nash had his short stint in outdoor retail when he opened Buckingham's Sporting Goods Store on North Main St. in downtown Memphis.
Stop 7: Wapanocca NWR
Wapanocca Outing Club - Brush Arbor Cememtery
Wapanocca National Wildlife Refuge 178 Hammond Ave. Turrell, AR 72384

"Away back yonder we entrained for Wapanocca at the old Kansas City, Fort Scott & Memphis Depot. There was no bridge across the Mississippi River in those days." —Nash Buckingham, Ole Miss.

Crossing the Mississippi River Bridge from downtown Memphis takes a matter of minutes today, but Buckingham, his father, and their gunning compatriots had a much more difficult time getting to their prestigious outing club.

Buckingham's stories told of liquor-mad axe men scuffling with one another as the smoke-filled passenger train was loaded onto a barge to cross the river. Fortunately, you'll be able to glance north and south, as you cross the Mississippi River bridge in less than two minutes.

Buckingham spent his youth gunning his father's two duck clubs, the famous Beaver Dam and Wapanocca in Arkansas. While Beaver Dam adventures make up the majority of his stories, the former Wapanocca Duck Club enticed many tales, and rekindled some of Buckingham's fondest fowling pursuits.

"Little did I ken then that in the next three decades I would gun ninety percentum of the continent's worthwhile wildfowling areas, but to this day, for its size, I have never seen waterfowl life as it used to be at Wapanocca." — Nash Buckingham, Hallowed Years.

Wapanocca Outing Club became a hunting club for wealthy Memphis businessmen in 1886 and then a part of the U.S. Fish and Wildlife Service's National Wildlife Refuge System in 1961. The 5,532-acre refuge consists of 600-acre Wapanocca Lake, a former oxbow of the Mississippi River.

Few remnants of the old Outing Club remain, but most notably is the Brush Arbor Cemetery – acquired by the Fish and Wildlife Service in 2006. It is here in this cemetery that several of the "paddlers" mentioned in Buckingham's stories have been laid to rest.

Arriving at the refuge headquarters, the Brush Arbor Cemetery sits behind a rise, 50 yards north of the visitor's center. Refuge management and volunteers have cleared the path and cemetery for visitors. It is estimated that nearly 80 gravesites are in the cemetery.

Crossing the rise and under the dense canopy, the cemetery emits an ethereal presence and the collective calmness that predates even the massive oaks towering overhead. All the grave markings surround an Indian Mound in the center of the cemetery, providing a man-made but natural looking centerpiece. Names on the markings reveal the likes of Wapanocca paddler, Crocket Winesberry, mentioned in several of Buckingham's stories.

There are sections of a small fence which outline a featured gravesite. It is assumed, but not verified, that "Uncle" Phil Gwynne who died in 1901 is buried within the natural borders of Brush Arbor Cemetery. Several years later, Buckingham retells the story of Phil Gwynne's passing in one of his most famous stories.

"We tiptoed to the bedside and stood looking down at the pathetic figure, lying there so frail and still. Child that I was, his likeness in the fullness of manhood came sweeping across the years. I saw him tall and vigorous, scarce bending under the weight of a deer, or outlined a black statue as he stood to pole the duck boat into the very teeth of a wintry gale. I saw him again as he peeked and pried into the pots and pans and cast his shadow upon the kitchen curtains." — Nash Buckingham, De Shootinest Gent'man & Other Tales.

Take the driving tour, or for the more adventurous, paddle the canoe and kayak trails of Wapanocca NWR. There are still remnants of duck blinds throughout the refuge, which have remained silent since the days of the old Wapanocca Outing Club. The driving tour winds you through the refuge and the opportunity to experience the virgin cypress forest and its natural beauty.

It is only fitting that the end of the Nash Buckingham Trail leaves you just off the Mississippi River and in the heart of Arkansas duck country. From here, you're on your own, and in a perfect location to begin your own waterfowling adventure.
Suggested Reading
Books by and about Nash Buckingham
De Shootinest Gent'man & Other Tales
Ole Miss
Blood Lines
Mark Right!
Game Bag
Hallowed Years
Tattered Coat
The Best of Nash Buckingham, edited by George Bird Evans
"Mr. Buck," The Autobiography of Nash Buckingham, edited by Dr. William D. Halstead and Steve Smith
Nash Buckingham, Beaver Dam and Other Tales, by Dr. William F. Andrews