Improvise. Adapt. Overcome. Fiscal Year 2020 (FY20) saw this unofficial motto of the Marine Corps quickly become the battle cry of Ducks Unlimited's volunteers and staff. Starting in March, the COVID-19 virus forced us to drastically alter the way we do business. To continue our 83-year-old wetlands and waterfowl conservation mission, Team DU continues the fight to regain revenue lost during the global virus-related shutdown.
We started FY20 celebrating the historic success of DU's Rescue Our Wetlands campaign. At the 2019 DU national convention in Hawaii, we announced that this ambitious campaign had been a huge success, raising $2.34 billion and conserving more than 2.2 million acres. Team DU was headed for a record-breaking year in FY20 until the global pandemic emerged, leaving death, destruction, and dislocation in its wake. It took only weeks to close businesses, clear city streets, crash international financial markets, and postpone more than 2,000 DU events. But even with the loss of revenue and in-person event limitations, bright spots emerged during the crisis.
In spite of the pandemic, Ducks Unlimited generated revenues of $230 million in FY20. More than 57,000 Ducks Unlimited volunteers teamed with staff to raise over $95 million in philanthropic support for DU, well exceeding our original post-COVID projections.
2020 DU Annual Report
View and download the full Ducks Unlimited Annual Report in PDF format to read more about our many achievements and success stories in FY20. Cover photo by Tom Martineau/www.therawspirit.com.
You can also click here to view our Honor Roll of Donors.
Each year, Ducks Unlimited promises to spend at least 80 percent of all funds raised on our conservation mission. We met that goal again in FY20 with 83 percent of our revenues going toward our mission.
Other great news from FY20 includes Ducks Unlimited's conservation impact on 606,745 acres of wetland habitat, well above the budgeted goal of 372,000 acres. Our conservation staff worked tirelessly throughout the pandemic and followed all local COVID-19 guidelines to ensure that we made good on our mission. They slept in repurposed ice fishing houses, campers, and even tents to ensure our work never stopped. Throughout North America, Ducks Unlimited has conserved almost 15 million acres since its inception in 1937.
And our corporate partners continued to support the greatest wetlands conservation organization in North America, even in the darkest of days.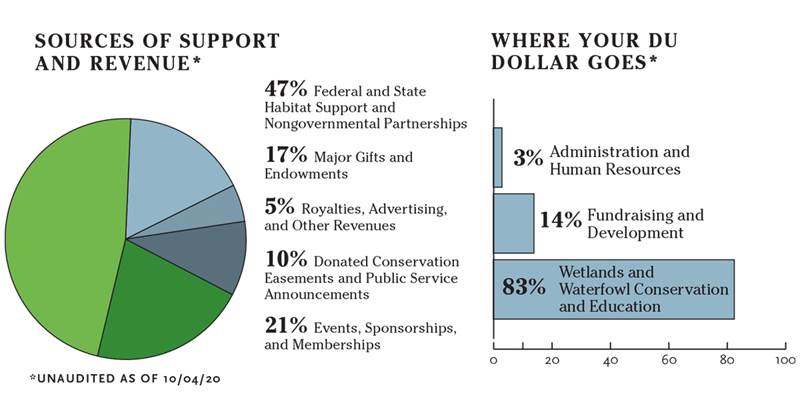 FY20 CORPORATE PARTNER HIGHLIGHTS:
First National Bank of Omaha sponsored many of DU'S virtual events.
Nestlé Purina sponsored a buy-one, get-one membership offer.
Bass Pro Shops' round-up promotion generated $375,000 for the ducks.
ConocoPhillips donated $1 million in support of DU'S conservation work.
Phillips 66 celebrated more than $2 million in total contributions.
Anheuser Busch and DU celebrated A 20-year, multi-million-dollar partnership.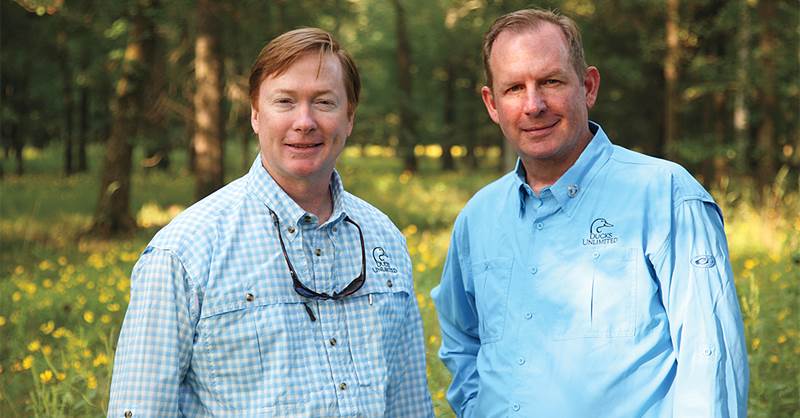 Ducks Unlimited continues to find new ways to communicate, deliver on-the-ground conservation work, and fulfill our mission in the eye of the storm. And, like everyone, this is affecting every aspect of our business. Our team is stepping up in new and creative ways, just like the conservationists who founded our beloved organization during the Dust Bowl days of 1937.
Our supporters, volunteers, and leaders are every bit as committed to the cause as our founders were in the late 1930s. But, unlike them, we have the benefit of their foresight as our hindsight. We know our mission is a righteous one. As we write this, offices are reopening, banquets are gradually coming back, and habitat work continues at full throttle.
This crisis, like others we have weathered, will pass. And when it does, thanks to our dedicated volunteers and members like you, Ducks Unlimited will continue to make lasting progress in our mission to fill the skies with waterfowl.
Douglas A. Schoenrock
President, Ducks Unlimited Inc.
Adam Putnam
DU Chief Executive Officer