Youthful Experiences Lead to a Lifetime of Giving Back
Major Sponsor Spotlight: Kay Church
Kay Churchs love of nature began with exciting outdoor adventures at the heels of her grandfather. As a young child, Kay learned to hunt rabbits and squirrels under his watchful eye. Through their adventures, her love for animals grew. During her youth, Kay attended to an array of animals such as chickens, geese, ducks, cats, dogs, and even a pony. But her favorites were the waterfowl.
Although she started hunting with a BB gun at eight years old, Kay inherited her grandfathers .410 Stevens side-by-side shotgun. She shot it for the first time when her father took her to their hunting land on the Platte River and threw a clay pigeon into the air. Much to the surprise and delight of her father and friends, she broke the clay on her first shot!
Kays passion for Ducks Unlimited began the day her father, Ken Church, asked her to attend her first DU dinner. Ken was involved with the Omaha, Nebraska, DU chapter and also supported DUs conservation efforts as a Sponsor in Perpetuity. He told her, You know this is a stag event. By this time Kay was an accomplished trap- shooter, and her response was, Thats OK, I can shoot as well or better than most of the guys there.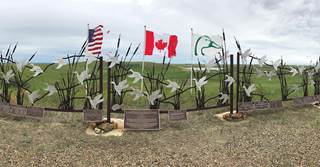 After her fathers death, Kay made it a point to carry on the tradition of supporting conservation through Ducks Unlimited. I am an only child, so DU became my new family, Kay says. I attend five or more events each year in the Omaha area as a volunteer, and I also provide underwriting for the events. I really enjoy taking pictures and developing photo albums to help the volunteers remember their experiences. I am passionate about waterfowl because they spoke to my emotions as a youngster and continue to do so, and I am passionate about wetlands because they are integral to the survival of waterfowl as well as many other species. Humans are included in the species that need water for survival.
It is especially important to Kay to contribute to DUs continental approach to conservation. She is currently a DU Legacy Sponsor, a member of the Presidents Council, and a Grand Slam Life Sponsor. As such, her support reaches across the continent, from Canada to Mexico. Ducks, geese, and other migrating birds do not have one place they call home, she says. DU impacts the entire cycle of bird migration in North America. When asked which region is most important to her, she quickly points to the Prairie Pothole Region. It all starts there each spring. The area has been greatly impacted, yet it still produces millions of birds each year.
As our lives and travel opportunities return to normal, Kay looks forward to visiting her ducka special recognition of her contributions to conservation and her support of DUs prairie initiatives. Kays duck is part of a unique display at DUs Coteau Ranch in North Dakota.