Willits Family Leaves Lasting Conservation Legacy in Washington
Lifelong conservationists Ward and Rita Willits of Olympia, Washington, have always recognized the importance of preserving wetland habitat through their volunteer work and philanthropy with Ducks Unlimited.
Ward was invited to his first DU dinner 25 years ago by his late brother John, who was an ardent DU supporter, and quickly became involved with his local chapter. Rita joined Ducks Unlimited a few years later and the couple, who both worked for the US Forest Service for several decades, have since become Heritage Sponsors.
We initially started with the idea to protect land around where we live because there has been so much development since we first got the property in the late 80s, Ward says. Weve really enjoyed the people and events with Ducks Unlimited over the years.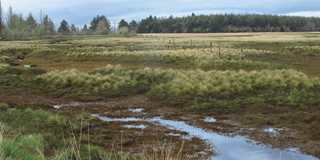 Ward and Rita are Diamond Feather Society members and recently made a $3.5 million commitment by including DU in their estate plan. Their ongoing support of DUs Wings and Wetlands Initiative has made a tremendous impact on the organizations ability to conserve and restore vital habitat in the Pacific Northwest, including the purchase of 1,100 acres of land in Grays Harbor County, Washington, in summer 2019.
Ward and Rita are not the only members of the Willits family to support conservation. Wards late sister Jane made several estate gifts to Ducks Unlimited in 2012, one of which was instrumental in the acquisition and restoration of approximately 200 acres on Barney Lake in northwest Washington. Despite never being a DU member, Jane was the older sister of two passionate DU members and made a contribution that will benefit Pacific Flyway waterfowl for generations to come.
One of Wards favorite conservation efforts took place in 2013, when he and Rita helped complete Johns ambitious project to create a corridor of waterfowl habitat from Dungeness Bay to Sequim Bay. A neighboring landowner had been hesitant to place a conservation easement on a lone parcel of land that was unprotected. John realized the solution was right in front of him.
He suggested my wife and I buy it, Ward recalls, chuckling. Which we did. We now call it The Missing Link because it connects his land with ours and has joined the properties into one large piece of habitat that will be protected forever for his grandkids.