White Tract adds to Louisiana public lands
Salvador Wildlife Management Area expanded by nearly 1,800 acres
NEW ORLEANS July, 6, 2017 Ducks Unlimited facilitated the purchase of 1,777 acres of wetlands10 miles southwest of New Orleans. The Louisiana Department of Wildlife and Fisheries (LDWF) will add the property known as the White Tract to the Salvador Wildlife Management Area (WMA).
"We are exceedingly pleased to be part of this effort," DU Director of Operations Jerry Holden said. "Any time we can help our partners put more habitat into public ownership and increase the available areas for public hunting and fishing, Ducks Unlimited is happy to engage. With this property so close to New Orleans, it provides a convenient outdoor escape for millions of people and adds to the nature-based storm protection for the city."
The White Tract does more than add nearly 1,800 acres to LDWF's public land holdings. Together with Salvador WMA, Timken WMA and Jean Lafitte National Historical Park and Preserve, it creates a contiguous complex of more than 55,000 acres of public lands near the state's largest metropolitan area.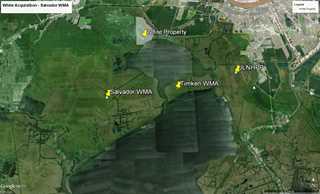 "LDWF is excited about increasing the acreage on Salvador WMA," said LDWF Program Manager Lance Campbell. "This WMA is particularly unique due to its proximity to Louisiana's largest population center. The new acreage will provide quality waterfowl habitat to the WMA as well as increased outdoor recreational opportunities for citizens in the New Orleans area and the rest of Louisiana."
The property was purchased with the assistance of Wetlands America Trust, one of the nation's largest accredited land trusts and the land trust for Ducks Unlimited. Additional support came from the property owners, Ducks Unlimited's Gulf Coast Initiative, LDWF, Louisiana Coastal Protection and Restoration Authority and a North American Wetlands Conservation Act grant.
Wetlands provide many functions and values necessary for sustaining wildlife and fishery resources, coastal communities and estuarine ecosystems. The White Tract is a unique composite of freshwater and intermediate marsh, cypress swamp, forested ridges, shallow lakes, and submerged aquatic vegetation beds. It is quality habitat for wintering waterfowl, other wetland-dependent birds, and wildlife and fishery species.
Media Contact:
Andi Cooper
(601) 956-1936
acooper@ducks.org