Family and Conservation Traditions
Major Sponsor Spotlight: Mike Woodward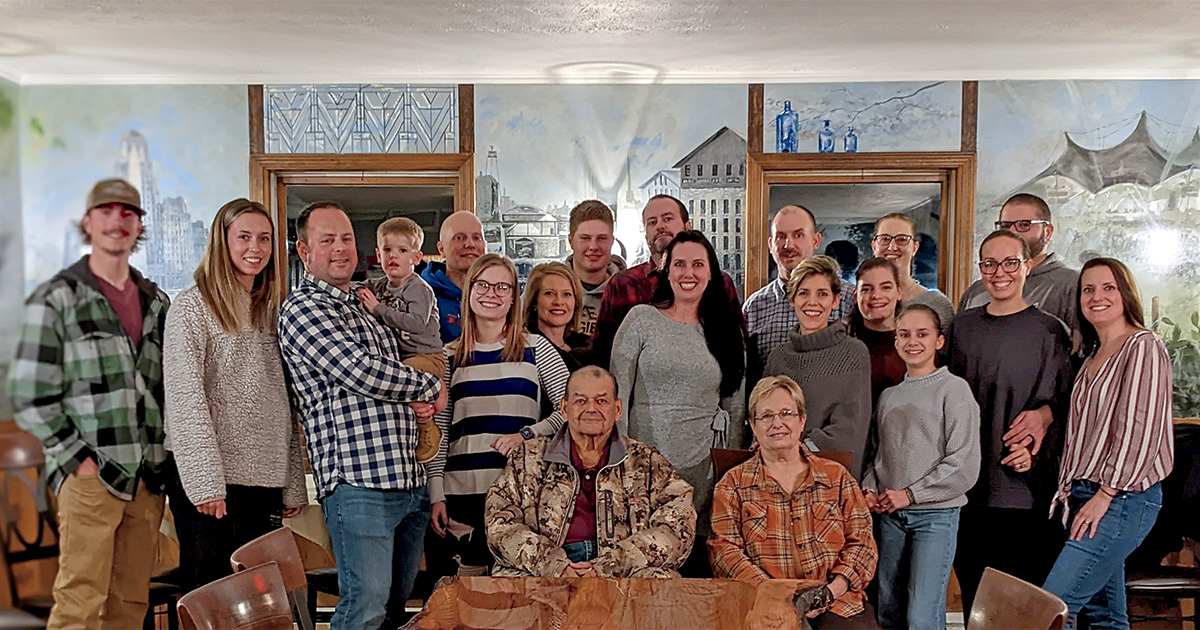 Mike Woodward of Oakfield, New York, is a longtime Ducks Unlimited supporter and volunteer. Since he attended his first DU dinner, in the 1970s, his passion for conservation has reached soaring heights. Mike was first elected to the Ducks Unlimited Inc. board of directors in 2008, and he has held numerous positions on the board and national committees. Today, he continues to serve on the National Development Committee and the Ducks Unlimited Canada board of directors.
Mike's passion for the DU mission is rivaled by few. His dedication to wetlands conservation has had an enormous impact on his children and grandchildren. "It has been a family tradition for me, having a love for the outdoors," Mike says. "My father had it, as did my grandfather. I wanted to share that same passion with my children and grandchildren." And he has done just that.
Mike's son Kyle explains the impact his father has had on his love for the outdoors. "I cherish the time I have spent with my family outdoors. I grew up seeing DU conservation projects in our community, and my father taught us that these are resources to be taken care of and preserved."
Mike's son Mark adds, "Hunting is so deeply rooted in my family that it borders on being a religious experience when we are in the duck blind. My father taught me that hunting and conservation go hand in hand."
Although hunting is what bridges the gaps between Mike and his children and grandchildren, his passion for conservation and leaving the world better than we found it is deeply rooted in family values. Even at the youthful age of 20, Mark's daughter Alison shares this passion. "People who do not have fathers and grandfathers who hunt have no idea how far-reaching the benefits of wetlands conservation can go," Alison says. "It goes far beyond just protecting waterfowl habitat, as that same habitat is important to all wildlife and to us as humans. We don't always just take . . . we give back."
Mark's 17-year-old son, Michael, shares his sister's sentiments. "One thing that has always stuck out to me is how much time we spend cleaning up after a hunt, picking up shells or anything else we might have used while we were out there. My dad and grandfather always want to leave it better than it was when we found it. By watching how much time they spend organizing and attending events and supporting DU, I know conservation is important."
Although Mike spends lots of time hunting and at DU events with his sons, he credits his wife, Bonnie, and his daughters for continuing to fuel his passion for wetlands conservation. "Everyone in our family grew up looking out the back window with an appreciation for wildlife," Mike says. "That is the reason I purchased the farm, so my entire family could hunt together and appreciate what is out there."
Mike's passion and commitment to wetlands conservation has not only affected his own children and grandchildren but will continue to have an impact on generations of people beyond the Woodward family for years to come. "DU has inspired me," Mike says. "They have made me feel like I could do more. I have always trusted DU to be able to do what is best for conservation and to use my donations wisely . . . and I have never lost that trust. My legacy is to leave this world better than what it was."
Kyle adds, "My father often says, 'It's about the leader,' and he has led by example his entire life. He puts his money where his mouth is as a volunteer and a donor."
Mike and Bonnie are DU Gold Legacy Sponsors, Grand Slam Benefactors, and Feather Society Legacy Conservation Pioneers. They are also members of DU's President's Council and Ducks Unlimited de México's John E. Walker III Society.
In the spirit of Mike's conservation legacy, there will be tributes in his honor at the Oak Orchard Wildlife Management Area near Oakfield in the fall of 2023, and at the Sinclair-Campbell project in southern Ontario, Canada, in the spring of 2024. These dedications will provide donors the opportunity to be recognized for their gifts to DU in Mike's honor. For more information about the Mike Woodward Conservation Legacy, contact DU Director of Development Ron Zega at rzega@ducks.org or 518-944-6664