DU Staffers Get 2022 EIC Awards
Excellence in Conservation Awards given annually by DU Conservation Programs Committee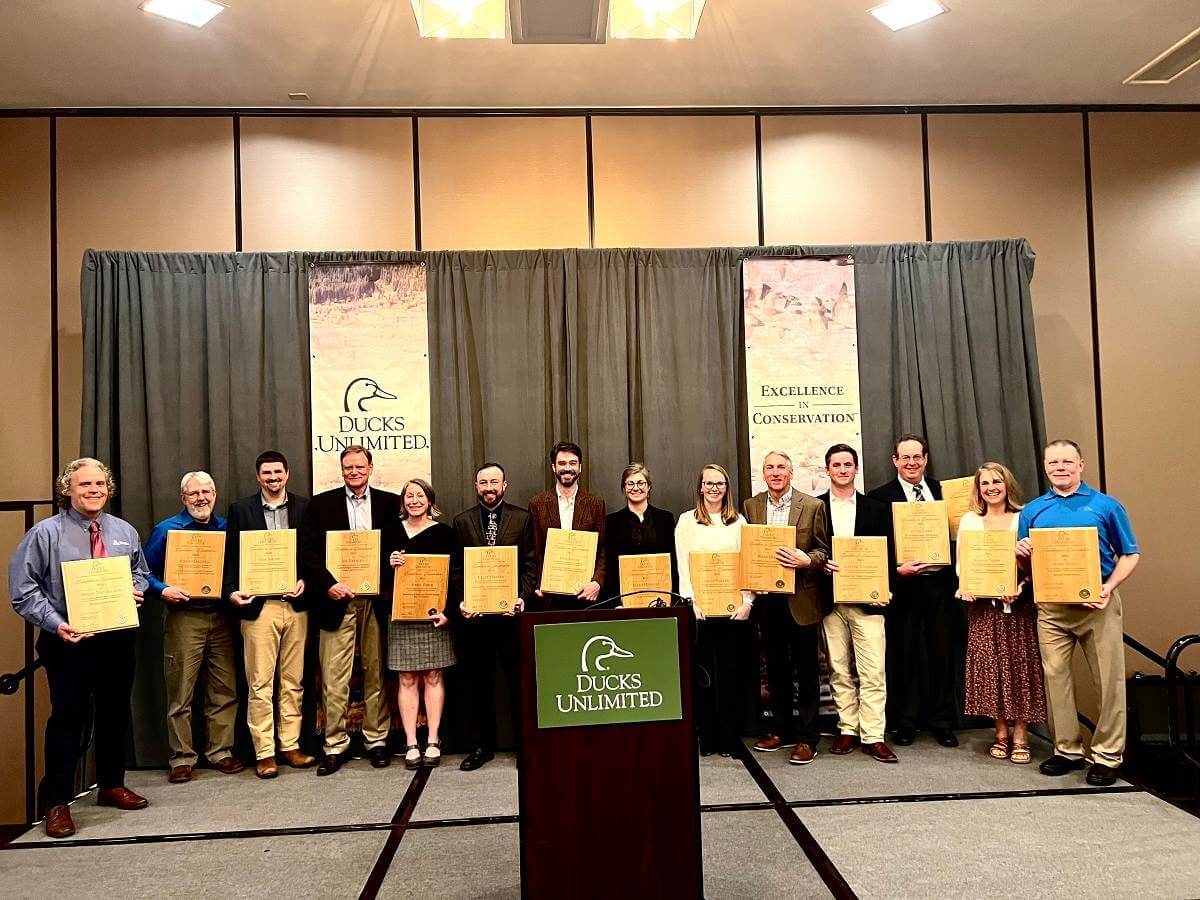 Ducks Unlimited (DU) has announced its annual Excellence in Conservation Awards, created by DU's Conservation Programs Committee (CPC) to recognize outstanding conservation accomplishments and the staff members who made them possible.

Any extraordinary accomplishment that supports DU's conservation mission of filling the skies with waterfowl today, tomorrow and forever is eligible for recognition. The 2022 awards were announced during the CPC winter meeting in Corpus Christi, Texas.

"These individuals were recognized for their extraordinary efforts, amazing achievements and careers dedicated to conservation," said DU Chief Conservation Officer Dr. Karen Waldrop. "We are impressed every year with the amazing work of so many dedicated Ducks Unlimited, Ducks Unlimited Canada and Ducks Unlimited de México staff members. We are proud to announce and commend this year's recipients."

The following 2022 Ducks Unlimited Excellence in Conservation Lifetime Career Achievement Award winners are recognized for sustained, long-term contributions to DU's conservation mission:
Fritz Reid, Ph.D., Retired DU Director of Boreal and Arctic Conservation Programs
Jim Devries, Ph.D., DU Canada Research Scientist
Billy Hill, DU Mississippi, Alabama and Tennessee Regional Engineer
Steve Liske, DU Western Region Director of Engineering Services
Nancy Jensen, DU Great Plains Region Project Coordinator

The following Ducks Unlimited Excellence in Conservation Project/Achievement Awards recognize outstanding accomplishments supporting DU's conservation mission delivery:

"Ducks Unlimited has an amazing and talented Conservation team working diligently to implement our mission. These dedicated professionals routinely deliver exceptional conservation results, playing a crucial role in accomplishing our goals," said CPC Chair Dr. Christine Thomas. "The Excellence in Conservation awards program conveys the gratitude of DU's volunteer leadership by highlighting the impressive talent and expertise of the DU conservation staff."

For more information, visit www.ducks.org.

About Ducks Unlimited

Ducks Unlimited Inc. is the world's largest nonprofit organization dedicated to conserving North America's continually disappearing waterfowl habitats. Established in 1937, Ducks Unlimited has conserved more than 15 million acres thanks to contributions from more than a million supporters across the continent. Guided by science and dedicated to program efficiency, DU works toward the vision of wetlands sufficient to fill the skies with waterfowl today, tomorrow and forever. For more information on our work, visit www.ducks.org.