Scouting for science in New York marsh
Grad student studies DU restoration site.
Chris Mitchell is so determined to find out exactly how ducks benefit from healthier wetlands that he eagerly trudged through still-frozen New York marshes in early spring to install nearly 30 trail cameras that he'll monitor for weeks at a time.
Mitchell is a master's student at State University of New York, College at Brockport. He's teaming with Ducks Unlimited to study the impact of recent conservation projects at Braddock Bay Wildlife Management Area along the Lake Ontario shoreline in New York.
Since 2014, DU has worked with several partners to enhance the management area. Ducks Unlimited created channels and ponds to enhance access for people and wildlife.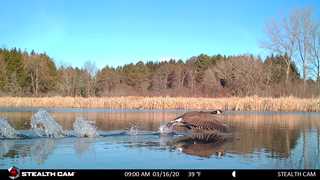 "We have anecdotal and observational data on waterfowl use of the ponds and channels, we know waterfowl use them, but to what extent is unknown. This study will give us this the scientific information we have been looking for," said Brandy Neveldine, Ducks Unlimited regional biologist for New York.
Mitchell just finished his first field season, checking 26 Stealth Cam trail cameras and sampling vegetation and invertebrates. Taking extra safety precautions during the COVID-19 pandemic added a layer of difficulty.
He'll continue weekly survey work and spend the summer and fall processing his data. Next winter, the process repeats. Once the two-year study is complete and he defends his thesis, the study will be put into manuscript form and submitted for journal publication so other waterfowl scientists can learn from his work. He credits his advisor Dr. Rachel Schultz, and his research assistant, Jarod Ruffle, with helping him tackle this project.
"On the local scale, my research will be useful for determining the importance and quality of Braddock Bay WMA as spring migration stopover habitat," Mitchell said. "On a larger scale, the results can be used in future restoration efforts to meet objectives concerning use and selection of a variety of waterfowl species."
Mitchell grew up in Waterloo, New York, next to Montezuma National Wildlife Refuge. The proximity to this outdoors gem helped him develop a passion for the outdoors, hunting and fishing.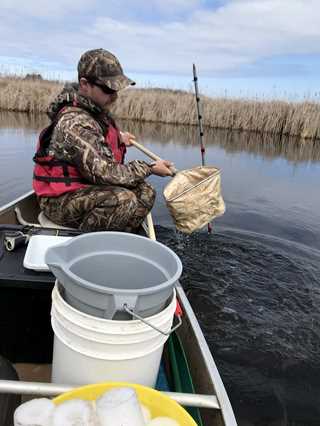 "It's always rewarding researching something you're very interested in," he said.
Dr. John Coluccy is director of conservation planning for DU's Great Lakes/Atlantic Region. He said the data Mitchell is collecting will enable groups like Ducks Unlimited to more strategically - and efficiently - complete wetland conservation projects.
"The research is monitoring the work we're putting on the ground that is key to the adaptive management process. We're enhancing or restoring a lot of habitat, and to improve our work we need to understand how vegetation and birds are responding," Coluccy said.
Mitchell said a surprise from his early research is the large number of diving duck species in the shallow wetlands, compared to the puddle ducks he was expecting. His top species so far have been ring-necks, buffleheads and hooded mergansers.
Neveldine said student research projects have proven critical for adaptive management and helping DU to secure funding to continue this important work.
"The icing on the cake is the long-term benefit we see of investing in students, who will become the future wildlife managers we work with and join the conservation workforce in New York," she said. "At the same time, it is great to give students the experience of learning how large restoration projects unfold and how much it takes to get these projects on the ground."