Ronal Roberson Legacy Greenwing Dedication
Mississippi's third Legacy Greenwing project was dedicated to Dr. Ronal Roberson
Conservation partners, friends and family gathered on June 15, near Indianola, Mississippi to dedicate a project to Ducks Unlimited volunteer and Major Sponsor, Dr. Ronal Roberson.
Nearly 700 acres of abandoned catfish ponds were converted into managed wetland impoundments at Billy Deviney Wildlife Management Area through the construction of levees and installation of water-control structures, new groundwater wells and associated underground piping. The Mississippi Department of Wildlife, Fisheries and Parks (MDWFP) will manage the impoundments to optimize waterfowl food resources and promote public hunting opportunities. MDWFP plants crops like rice and manages for moist soil plants to meet a variety of nutritional needs.
A dentist in Charleston, Mississippi, Roberson takes special interest in introducing youth to waterfowl hunting. He was honored for his leadership with youth and education and his passion for the Legacy Greenwing Program. As Advisory Senior Vice President for Youth and Education on DU's national board, Roberson was instrumental in implementing DUs scholarship program for varsity members.
His zeal for involving youth in the outdoors manifested itself during his tenure as Mississippi DU State Chairman. He offered hunts in the famed Mississippi Delta to bolster the fundraising efforts of surrounding states' DU chapters. Ronal provided lodging, food, hunting locations and guides for a parent and child. He made sure each child, some with physical or developmental challenges, could experience waterfowling.
In recent years, Roberson was instrumental in the development of the Ducks Unlimited - MDWFP Youth Waterfowl and Wetlands Conservation Camp. He hosted the first event in 2010 at his lodge, teaching MDWFP staff and newer DU volunteers the ropes for holding such camps. He also ensured the camp had a home going forward, and it's still going strong nine years later.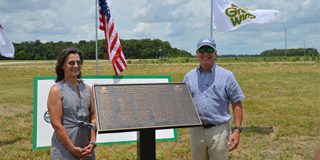 "You don't have to be a wildlife biologist to contribute to conservation," Roberson said. You don't have to be rich, either. It's not just all about the money. Being involved is the key. Sharing your time is the best way to impress upon people that you're truly committed. Time is one of our most precious resources and giving that time to be part of other people's firsts is a blessing for both of you."
Robersons contributions have all been on his own time and his own dime. With the support of his wife, Patti, he gives generously to make sure today's youth can experience the magic of waterfowl hunting and wetlands conservation. Recognizing his impact, the Mississippi Wildlife Federation named Roberson their 2016 Conservationist of the Year. The $2.1 million project was supported by the North American Wetlands Conservation Council, Wetlands America Trust, DU, MDWFP, Audubon Society, the Walker Foundation, Cypress Brake Tree Farms, Foundation for Mississippi Wildlife, Fisheries, and Parks, Mississippi Department of Environmental Quality, the U.S. Fish and Wildlife Service and DU major sponsors, including Mississippi Legacy Greenwing members. This is Mississippis third Legacy Greenwing Project.
Photo Album: https://flic.kr/s/aHsmEjNKJB