Riding a Wave
With his second consecutive DU Artist of the Year honor, Adam Grimm continues to impress
By Tom Davis
Adam Grimm is going to need a bigger capas if he didn't have enough feathers in it already. The two-time winner of the federal duck stamp contest has now been named DU's Artist of the Year two years in a row. Grimm enjoys the additional honor of holding this title during DU's 85th anniversary year.
"It's very exciting and gratifying," acknowledges Grimm, who has the distinction of being the youngest person ever to win the federal contest. "I got the news on a voicemail, and I played it for my wife, Janet, just to see her reaction. It was like, 'What? What did she say?' Of course we were both thrilled."
To follow up his 2021 Artist of the Year painting, a whimsically charming image of a brood of pintail ducklings, Grimm chose to go in a very different direction for 2022. The result, titled Royal Crest, is a riveting, tightly focused composition of three canvasbacks, two drakes and a hen, riding the crest of a breaking wave. Dramatically lit and imbued with that lordly gravitas peculiar to the canvasback, it packs a powerful visual and emotional punch.
"I've always wanted to do a painting like this of canvasbacks or redheads on bigger water," muses Grimm, who makes his home in the glacial lakes region of northeastern South Dakota. "I love the way that the color of the heads and the contrast of the bodies play off against the blues and greens of the waves."
The idea for the painting had been swirling around for a while when, one Sunday morning in October 2020, the elements suddenly clicked into place. "The way the wind was blowing that morning," Grimm recalls, "I knew that the sun would be on the waves just the way I wanted. I also knew that the waves would be blowing toward shore, so I'd be able to get good photos of them as reference for the painting.
"We were getting ready for church," he continues, "so I decided to drive separately and leave early. This particular lake is near the main highway into townand I'm standing there on the rocks, in my church clothes, taking pictures of the water and getting splashed by the waves. People were slowing down to try to see what I was photographing, but it was just the water. I've seen canvasbacks sitting in that location many times, though, and that morning it all came together."
As he worked through the actual painting, Grimm posted daily progress photos on social medianot only because he thought people would enjoy a glimpse into the process but because, in the face of all the angst and uncertainty engendered by the pandemic, he thought it might have a therapeutic benefit as well.
"I've always found that doing a painting is calming," he notes. "It helps to remove some of the stress from your mind, and to block out some of the worries and issues of the day. So I thought, If it helps me, maybe it'll help other people, too.
"Well, it developed a big following. People could watch the whole processhow water, for example, goes from looking like a big blob of nothing to actually looking like water. I had people telling me they liked the water so much that I shouldn't put any ducks in it at all! But then when I did they were like, 'Oh, yeah, I get it now.'"
While Grimm credits Bruce Miller's 199394 federal duck stamp (also an image of canvasbacks) as the inspiration for his entire career, many artists have influenced him.
"I love wildlife art," he says, "and I love looking at other artists' work. It's always instructive to see how they handle the same problems that you might be facing. The way they handle light, color balance, designthose kinds of things. Some artists just have an incredible knack for it. Obviously the Hautman brothers have been an inspiration, as have Dan Smith, Robert Steiner, and also Rob Leslie, who was DU's Artist of the Year some time ago. Rob was one of the first professional wildlife artists I ever met and just a super person. He couldn't have been kinder or more helpful."
In addition to Adam, Janet, and their children, Madison, Hannah, Jonas, and James, the Grimm household includes three yellow Labs. "All the kids love hunting, fishing, nature, and the outdoors," Grimm notes happily. "Where we live, surrounded by marshes, lakes, and prairie, it's hard not to. It's really God's Country out here."
To see more of Grimm's work, visit his website at adamgrimm.com.
Ducks Unlimited's 2022 National Art Package Contributing Artists
a. SPRIG LANDING by Richard Clifton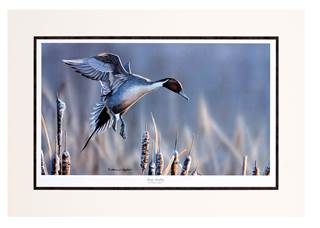 Richard Clifton calls upon his experiences in the field to inspire his art, and waterfowl are among his favorite subjects. In Sprig Landing, a drake pintail makes his descent into a marsh on a frosty morning. This is Clifton's 16th image in the DU national art package. He has been named DU's Artist of the Year three times and has won the federal duck stamp contest twice.
b. FIRST TIME by Scot Storm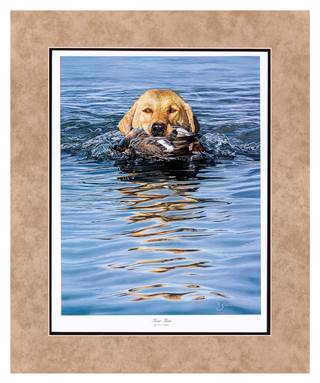 Scot Storm's love of hunting and the outdoors drew him away from a career in architecture to explore the challenges of wildlife art and eventually become a full-time artist. Storm has won the federal duck stamp contest twice and has been named DU's Artist of the Year three times. First Time captures the determination and enthusiasm of a yellow Lab retrieving a downed scaup.
c. STARE DOWN by Adam Smith

Perhaps no creature symbolizes the country's wildlife and conservation legacy better than the American bison. Adam Smith's Stare Down captures the majesty of a bison in winter. Smith was raised in a family that was immersed in wildlife art and educated by the natural world. His current home in Montana is nestled in the woods at the base of a mountain and offers frequent views of elk, moose, deer, mountain lions, and bears.
d. VALLEY CALL by Dean Crouser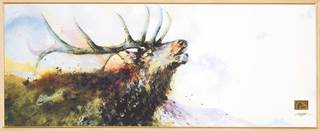 Dean Crouser was born and raised in Oregon, and his childhood summers were spent camping and fishing in the Columbia River Gorge, the high lakes of central Oregon, and the foothills of Mt. Hood. His love of fishing, camping, and the outdoors can be found in the expressions of his art. His canvas giclee of a bugling elk, titled Valley Call, features a brass DU medallion and a printed artist's signature, and the canvas is floated in a shadowbox-style wooden frame.
e. TYEE by Dean Crouser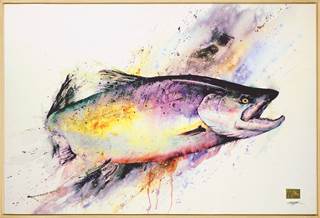 Tyee is a Native American word meaning "chief." The term is also applied to Chinook salmon weighing 30 pounds or more. Dean Crouser captures the beauty, power, and grace of this Tyee salmon in a canvas giclee, which is floated in a shadowbox-style ash frame. The canvas also features a brass DU logo medallion in the lower right corner and a printed artist's signature.
f. AMERICAN HEARTTHROB by Hayden Lambson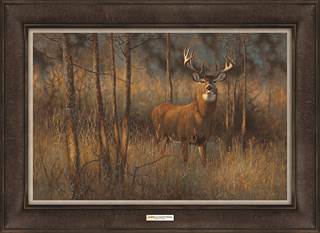 This canvas giclee of a trophy whitetail buck captures every shade and detail of the original work. Hayden Lambson lives
with his wife, Cheryl, in Pocatello, Idaho, where they have raised eight children. His love for hunting and the outdoors inspires his art, and his works have helped raise thousands of dollars for various conservation organizations.
DU's Guns of the Year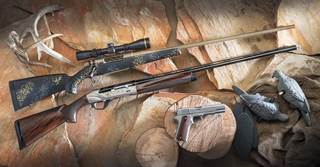 DU's Rifle of the Year for 2022 is the Weatherby Mark V bolt-action rifle chambered in 6.5.300 Weatherby Magnum. This eye-catching firearm is made in the USA and ready to take on the elements. Its barrel and action are treated with coyote-tan cerakote, and its polymer stock is hand painted. It has a Ducks Unlimited logo on the floor plate and comes with a Leupold VX Freedom 412 x 40 scope that is reticle-mounted and bore-sighted.
The 2022 DU Shotgun of the Year is an exquisite 20-gauge Benelli Super Black Eagle 3. This semiautomatic shotgun has a 3-inch chamber, 28-inch highly polished blued barrel with five extended interchangeable choke tubes, and an exclusive oil-finished walnut stock. The receiver is adorned with a gold-inlaid waterfowl scene featuring the DU logo. The engraving pattern complements that of the 12-gauge Benelli SBE3 that was DU's Shotgun of the Year in 2019.
Similar engraving is found on DU's 2022 Handgun of the Yeara Colt 1911 Stainless Classic. This semiautomatic pistol is chambered in .45 ACP and features a stainless-steel frame and slide, 5-inch barrel, and Ducks Unlimited logo. This fine firearm is made in the USA and includes a hard case and gun lock.