Restoring the Famed Delta Marsh
Major Sponsor Spotlight: Bill and Sheri Naegele
Delta Marsh on Canadas Lake Manitoba is one of North Americas most famous gathering places for migrating waterfowl. Since the 1930s, the legendary Mallard Lodge has brought many distinguished guests to this area. Situated on the edge of the marsh, the lodge was built by the late Jimmy Robinson. Jimmy was one of the most prolific and popular outdoor journalists of his time, contributing stories to Sports Afield and other publications for many years.
Bill Naegele Jr. and his wife, Sheri, are Ducks Unlimited Heritage Sponsors from Naples, Florida. Bills grandfather bought Robinsons lodge in the late 1950s. Today, Bill and Sheri usually spend the entire duck season there, hosting friends and family. Bills parents honeymooned at the lodge, and a young Bill learned to hunt with his grandfather in the marsh. Bills father and grandfather were members of Ducks Unlimited for as long as Bill can remember, so he grew up with DU. Its just always been a thing for me to give back to conservation, Bill said. My whole family were duck hunters, and really the origins of my passion for conservation began with the sunrises in the morning, the reeds in the marsh, the shotguns and duck boats, and the thrill of canvasbacks and bluebills flying into the decoy spread when we called them. It is all so thrilling. Duck hunting is my favorite, favorite thing to do.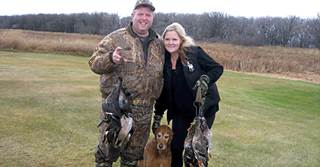 Bill shot his first duck at the age of six. But through the years he began to see a decline in the number of ducks that were staging in Delta Marsh. Carp were destroying much of the marshs vegetation, and Bill and many others knew that something had to be done about it. With the help of many conservation partners, DU Canada took the lead. The first phase of the project was the construction of carp-exclusion barriers. You could see a difference within the first year, Bill recalled. Now there is food all over the marsh, and the water clarity is better because you dont have the carp stirring things up. Now in the mornings when the water is calm you can look out across the bay and see staging ducks.
The second phase of the project is ongoing, with critical habitat protection and comprehensive research on water levels, nutrient management, and hybrid cattail control. Sometimes when you give to an organization, youre not really sure about where the money is going, Bill said. When you give your money to Ducks Unlimited, they do what they say they are going to do. DU gets results. With the marsh project you could literally see the difference almost immediately. There were ducks in the air and food in the marsh for them to continue their journey south.