Prime Real Estate
DU's Conservation Lands Program is protecting vital habitats on private lands in important waterfowl areas
By Jennifer Boudart
Given that so much land in the United States is privately owned, working with conservation-minded landowners to preserve the value of their property for waterfowl and other wildlife has become increasingly important to Ducks Unlimited's mission. In fact, DU is building on an impressive track record in land protection thanks to its Conservation Lands Program, which has been in place for more than 30 years. Through this program, DU works with willing landowners to pursue mutually beneficial land-protection options, including planned gifts, conservation easements, and the donation or sale of land. The program has enabled DU to secure high-priority wildlife habitat, safeguard rural landscapes from development, expand public lands in cooperation with state and federal partners, and generate additional funds for its conservation work.
Most of DU's protected lands fall under the auspices of its nonprofit land-holding subsidiary, Wetlands America Trust (WAT). Established in 1985, WAT provides specialized financial and philanthropic support to DU and has fiduciary responsibility for its endowment and land holdings. The third-largest land trust in North America, WAT maintains a portfolio of holdings that includes a mix of conservation easements and parcels purchased with the intent to ultimately sell or transfer them to other conservation interests.
Currently, WAT holds 590 conservation easements on nearly 500,000 acres. A conservation easement permanently protects land while enabling the landowner to retain private ownership. Landowners voluntarily agree to abide by certain restrictions that preserve valuable habitat and other natural resources. These restrictions are unique to each property and may range from prohibiting wetland drainage to limiting road construction. Landowners can continue to earn income from their land and preserve its value for future generations.
Mallard Rest is a great example of how a conservation easement can help landowners create a lasting legacy. The Rozier family of Greenwood, Mississippi, purchased this property in 2019. Because they owned a neighboring property, the Roziers were well aware of Mallard Rest's value for duck hunting. For years, they had heard about how Billy Dunavant-a legendary DU supporter and WAT emeritus board member-had maintained Mallard Rest as a premier duck-hunting property for more than four decades.
"Our property wouldn't get ducks until Mallard Rest filled up, and some would finally flow over to us," Craig Rozier recalls. He jokes that the situation was much like customers seeking out less popular restaurants after the best one had filled up. "We kept an eye on Mallard Rest," he continues, "and when it went on the market, we were blessed to be able to make a move on it."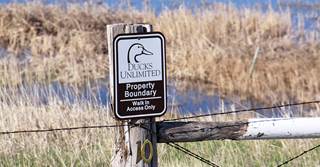 Craig, his brother, Michael Jr., and their dad, Mike Sr., all have a passion for waterfowl hunting and are committed to making Mallard Rest as valuable to wildlife as it was in Dunavant's day. The family owns a construction business and has tackled work each year to improve access on the property, install water-control structures, and construct or rebuild duck blinds. They farm 1,200 acres and manage about 400 acres for wildlife habitat. Craig says these improvements are not only making the hunting better each season, they're also making better habitat for wintering waterfowl.
"We're giving ducks a place to rest and feed and pair up, and that means more ducks to go back north in springtime to breed," Craig says.
The Rozier brothers are passing on their waterfowl hunting tradition to their own children. To preserve Mallard Rest for generations to come, they placed a DU conservation easement on the property in 2021. "It's something I recommend for people to preserve the legacy of their land," Craig says. "It will never be developed into something that it shouldn't be, no matter who's in control."
The Revolving Land Acquisition Program (RLAP) is another powerful tool in DU's land-protection toolbox. In cases where a landowner is not interested in a conservation easement but is willing to sell the land to DU, this program makes funds available through WAT to acquire properties that contain valuable waterfowl habitat. Once DU buys a property, it completes any required habitat restoration work and places the property under a conservation easement. Landowners can also make gifts of real estate to DU.
DU does not generally hold title to real estate over the long term; as a rule, lands acquired through RLAP are ultimately sold to another conservation buyer. If the purchaser is a state or federal agency, the property usually becomes part of a public lands system that is open for hunting and other recreational activities. DU will also sell to private landowners, such as ranchers, who can effectively manage protected wetland and grassland habitats while using the land to raise cattle.
At times, DU acquires land on behalf of a state or federal agency partner. When an agency cannot assemble funds quickly enough to purchase a desired property, WAT can step in, purchase the property, and hold it for that partner until funds are allocated and ownership can be transferred. These types of acquisitions are becoming increasingly common. In DU's Southern Region, for example, a property that DU purchased in 2021 was recently transferred to the South Carolina Department of Natural Resources (SCDNR). The 1,005-acre tract, known as River Oaks, is located along the Waccamaw River in Horry County and contains a variety of habitats, including forested wetlands, blackwater streams, and mixed pine-hardwood forests.
Under SCDNR management, River Oaks will be added to the Waccamaw River Heritage Preserve and Wildlife Management Area. It will provide a variety of benefits, including habitat connectivity along the river; access to recreational activities such as hunting, fishing, and paddling; and much-needed flood mitigation.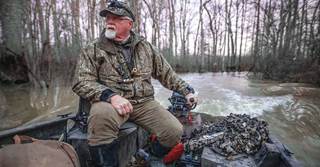 WAT currently holds 144 parcels-encompassing roughly 33,000 acres-that are in various stages of restoration or protection through RLAP. To date, more than 100,000 acres have been purchased. Proceeds from property sales go back into a Habitat Revolving Fund to be used for future acquisitions. This fund also receives contributions from major donors and other investment partners who work with WAT.
WAT's fundraising strength is critical to expanding DU's capacity for land protection, as far more opportunities to purchase land exist than DU currently has the capital to acquire. WAT's team of trustees is ready to meet the challenge, says WAT Vice Chairman Doug Oberhelman. "WAT is really a very committed group of individuals who not only look after the trust lands of DU but also raise significant funds needed to preserve big habitats," Oberhelman observes. "And that's really what WAT will be good at in the future."
Key to WAT's fundraising success is its broader focus on ecosystem services that wetlands provide, such as protecting water quality and mitigating impacts of climate change. Many corporations now have environmental, social, and governance (ESG) initiatives that focus in part on making investments in efforts to address environmental issues. "We can give ESG initiatives a purer way to look at investing in water, wetlands, conservation, and habitat," Oberhelman explains. "WAT is apolitical and is totally dedicated to wetlands and water. That's all we really do, and it's something everyone can agree with. And because so many other species of birds and other animals use the same nesting and resting areas that waterfowl do, investing in wetlands and water is a big win for everybody."