Michigan Allocates $10 Million in Funding for State Wetlands
Supplemental bill is a win for Michigan ecosystems and conservation efforts'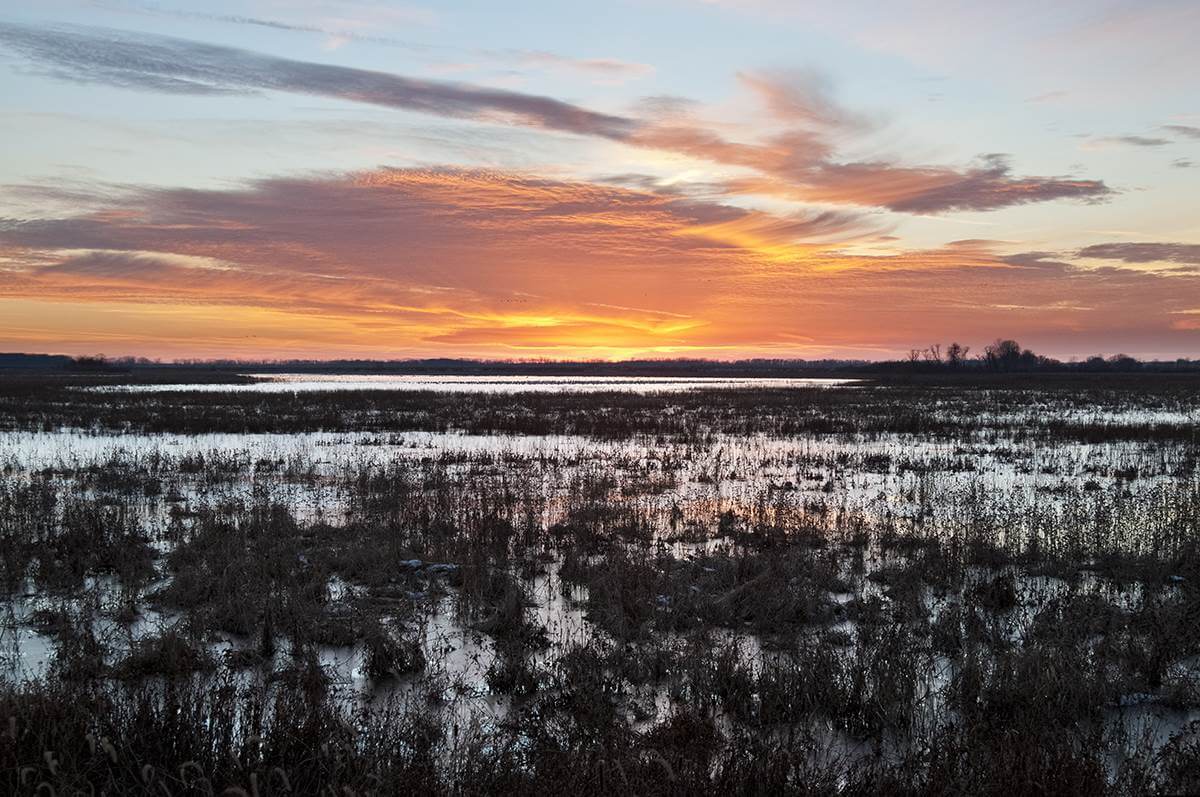 Michigan Governor Gretchen Whitmer signed a $1.3 billion supplemental appropriations bill Wednesday that secures $10 million for the preservation and restoration of state wetlands. This funding is critical to the health of Great Lakes coastal wetlands, which offer some of the most biologically diverse habitat in the Midwest and are essential to the resiliency of the entire western Great Lakes Basin.
"Wetlands act as nature's kidneys, filtering our water, reducing pollution, mitigating flood waters and improving habitat for wildlife," said David Bowers, Michigan State Policy Chair for Ducks Unlimited. "Wetlands also provide recreational opportunities for hunters, anglers, kayakers, birders and many others. Our volunteers worked tirelessly with state legislators to include this important conservation funding, and we appreciate the bipartisan support."
According to Michigan's Department of Environment, Great Lakes and Energy, the state has just over 275,000 acres of wetland acres remaining. Michigan has lost 50% of the coastal wetlands that existed prior to European settlement, and in some locations – the Detroit River – that loss is as high as 90%.
"Clean water is not just essential for drinking, but also for the health and stability of our communities, our wildlife, and our economy," said Sen. John Cherry. "I am proud to have championed this effort to promote cleaner water systems throughout the state, as wetlands serve as fundamental filters for our Great Lakes."

For the last year, DU and its partners have advocated that the state of Michigan provide more funding to restore wetlands near Saginaw Bay and throughout the Lake Eerie Basin. Without healthy wetlands in place to filter nutrients from rainwater run-off, harmful algal blooms (HABs) have become an annual occurrence in both watersheds since the late 1990s.
"Protecting our natural land is essential for healthy Michigan communities and for future generations," said State Rep. Amos O'Neal. "Nowadays, we are facing growing threats due to habitat loss, climate change and natural disasters. With all hands on deck, we can restore nature to promote stable economies, environmental security and human health. This supplement was a win for Michigan ecosystems and conservation efforts."
HABs – toxic colonies of algae that grow out of control – can compromise the quality of drinking water in local communities, are detrimental to a variety of wildlife species, and in extreme cases cause human illness or death.
"The passage of $10 million in supplemental funding comes at a critical point in time for the preservation of Michigan wetlands," said Rep. Angela Witwer, chair of the House Appropriations Committee. "Great Lakes algal blooms have become more frequent in the last decade, and we need more dollars to build and restore our wetlands to improve water quality for the people and wildlife of our state."
To address these environmental issues, DU has already partnered with state agencies on a landscape assessment tool that identifies and evaluates sites for wetland restoration so that agricultural run-off can be intercepted before making it to Saginaw Bay and Lake Eerie. This added funding will only help in our fight to preserve Michigan wetlands.
"While growing up on Lake Erie in the 1960s, I saw many, many signs that read, 'Swimming in this area is hazardous to your health'. I don't want to go back to that," said Sen. Joseph Bellino. "This funding will give our Lake Erie the nutrients it needs to be healthy for years to come. Helping restore the watershed will go a long way to making our lakes safe again — and keep them safe — for generations of families to enjoy."
DU has had a strong presence in Michigan for decades with more than 90,000 acres conserved and a total investment of over $50 million. To find out more about our work in Michigan, click here.
Media Contact:
Joe Genzel
(309) 453-0979
jgenzel@ducks.org