Preserving Our Outdoor Heritage
Major Sponsor Spotlight: Ken Boilsen
Diamond Legacy Sponsor and Diamond Feather Society member Ken Boilsen of Woodinville, Washington, was dedicated to conserving our natural habitats. Ken was born and raised in Wyoming, where he learned to fish and hunt and gained respect for the need to protect the environment from the continually encroaching impacts of people.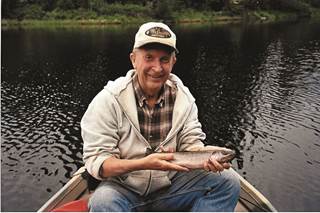 While growing up, he developed an interest in photography, became a competitive archer, and played guitar in a rock band. He graduated from the University of Wyoming with a bachelors degree in civil engineering in 1966 and took a job with Boeing in Seattle, Washington. At Boeing, he continued his education to achieve a professional engineer license, and he explored military applications of the Boeing 747 jumbo jet. Using the 747s unique size, range, and speed capabilities, Ken developed a defense system design that housed a missile carrier and launcher for which he received a patent. As his career progressed, Ken became the program manager for the Boeing 747 project known as Air Force Onethe airplane of the president of the United States.
Ken was not only dedicated to his work, he was an avid outdoorsman. His passion for the outdoors inspired him to be a member of DU for more than 30 years. He was also a dedicated volunteer with the Snoqualmie Valley DU committee for more than 10 years, serving as chairman of the committee during the last two years, when the chapter was among the top five chapters in the state.
Ken loved collecting DU anniversary shotguns, signed artwork, and other gear. Upon his passing in 2020, his collection of firearms was given to another DU member and hunting companion, and his collection of signed artwork and other gear was donated to the local chapter to be used in future fundraising activities.
But Kens estate gift will be the legacy that creates the most conservation action. His benevolent planning will allow DU to increase land protection and public access efforts in Washington using a strategy of combining philanthropic gifts and DUs revolving land fund to purchase land in high-priority conservation areas. These lands will ultimately be sold to federal and state agency partners for long term habitat management and public recreation. The executor of the estate commented: Ken would have been delighted to see his passion for wildlife conservation carried out by the team at Ducks Unlimited. We hope that his generosity will inspire others to include Ducks Unlimited in their estate plans as well.
Kens ashes were scattered at several of his favorite hunting and fishing spots in Washington and Wyoming so that he will rest in peace in the habitats he supported and loved.