Planting for the Future in New Jersey
To keep invading plants out, Ducks Unlimited calls in volunteer foot soldiers
Migrating ducks and geese in New Jersey weren't the only things looking to feast on newly enhanced 941 acres of Tuckahoe Wildlife Management Area.
After Ducks Unlimited reconstructed the coastal wetland last year, invasive vegetation threatened to overtake fertile soil and prevent waterfowl-friendly plants from taking root. Non-native phragmites and other species can quickly turn a wetland into an aquatic desert, devoid of diversity.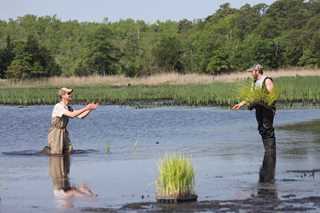 To keep invading plants out, Ducks Unlimited called in foot soldiers. Nearly two dozen volunteers from local Ducks Unlimited chapters joined members of the American Conservation Experience this spring to help plant 52,000 plants across several acres of the Tuckahoe project.
Volunteers planted 10 different species of native vegetation across a varied landscape. On the increasingly rare high marsh habitat they planted plugs of spartina patens or saltmeadow cordgrass. Throw in spartina alterniflora, or smooth cord grass, duck potato, soft rush and others, and the result in a few growing seasons will be a lush landscape attractive to a host of wildlife.
Jim Feaga, Ducks Unlimited regional biologist in New Jersey, said several measures will hopefully nurture the young plants. The New Jersey Division of Fish and Wildlife will manage water levels to promote growth. And like backyard gardeners dealing with browsing deer and rabbits, Ducks Unlimited volunteers put up walls.
"We put up goose enclosure fencing, to keep molting (and flightless) geese this summer from chowing down on plants," he said.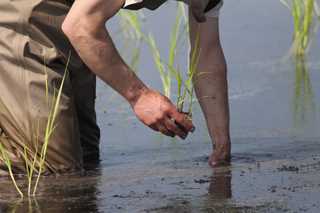 Kevin Stupp is chairman of the Cumberland County chapter of Ducks Unlimited, and is the Southern New Jersey Zone Chairman. This was his first time helping plant a new wave of waterfowl vegetation.
"It'll be neat this fall to come back and see how much of it has taken root and is growing, and to see the ducks in them," Stupp said.