New York releases Ducks Unlimited license plates
Plates available for vehicles, commercial trucks
ALBANY, New York Oct. 10, 2017 Supporters of wetland conservation and waterfowling in New York can now order a Ducks Unlimited custom license plate from the New York State Department of Motor Vehicles.
The plates are available for passenger and commercial vehicles.
These license plates are a wonderful tool to help spread the word about the conservation mission of Ducks Unlimited, said Duane Arnister, Ducks Unlimited state chairman in New York. I thank our hard-working volunteers and state legislators who supported this accomplishment.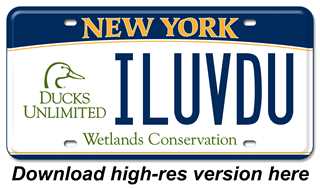 Legislation authorizing the plates was authored by former Sen. Michael Nozzolio and supported by several lawmakers, including Assemblywoman Carrie Woerner and Assemblyman Bob Oaks. Gov. Andrew Cuomo signed the legislation in 2016. Arnister also thanked former Ducks Unlimited State Chairmen Joey Nicosia and Paul Brody for starting the process years ago.
Ducks Unlimited was established in 1937 and is the world's leader in waterfowl and wetlands conservation. The organization for 80 years has protected, restored and enhanced wetland habitats to benefit waterfowl and wildlife. Many of Ducks Unlimiteds projects also improve water quality for people.
In New York alone, more than 16,000 Ducks Unlimited members support conservation and waterfowling. To date, Ducks Unlimited has protected, restored or enhanced 54,000 acres and has invested nearly $37 million in the state.
The new Ducks Unlimited plate gives New York drivers the opportunity to let everyone know that they support this tremendous organization and its conservation efforts, said Terri Egan, DMV Executive Deputy Commissioner. It fits in well with other plates we offer to promote our pride in the great New York outdoors.
Motorists can order their plate in three different ways:
A standard Ducks Unlimited plate can be purchased for an initial fee of $85. The annual fee is $56.25, which is in addition to the standard registration renewal fee. The plate can be personalized with up to six characters, including spaces, for an initial fee of $116.25. The annual fee for a personalized plate is $87.50, which is in addition to the standard registration renewal fee.
Ducks Unlimited Inc. is the world's largest nonprofit organization dedicated to conserving North America's continually disappearing waterfowl habitats. Established in 1937, Ducks Unlimited has conserved more than 14 million acres thanks to contributions from more than a million supporters across the continent. Guided by science and dedicated to program efficiency, DU works toward the vision of wetlands sufficient to fill the skies with waterfowl today, tomorrow and forever. For more information on our work, visit www.ducks.org.
Media Contact:
Chris Sebastian
(734) 623-2017
csebastian@ducks.org