New Jersey awards DU for conservation
Ducks Unlimited receives 2019 Directors Award
TRENTON, New Jersey May 16, 2019 The state of New Jersey honored Ducks Unlimited with the 2019 Directors Award for the protection and improvement of thousands of acres of wetlands throughout the state.
David Golden, acting director of New Jersey Division of Fish and Wildlife, named Ducks Unlimited the recipient of the award for its leadership on the Tuckahoe Wildlife Management restoration project in Cape May County, and for assistance with land acquisition across New Jersey.
This $1 million project restored habitat for waterfowl and shorebirds including the 1,000-acre Tuckahoe Wildlife Management Area, Golden said. Ducks Unlimited has been a long-term partner with the Department of Fish and Wildlife on wetland and waterfowl protections in New Jersey.
Ducks Unlimited added new infrastructure to Tuckahoe and enhanced 941 acres in 2017. This project gave habitat managers the tools they need to control water levels, encouraging healthy vegetation for migrating waterfowl and other wetland-dependent species of waterfowl.
Tuckahoe and numerous other projects are part of Ducks Unlimiteds Southeast New Jersey Coastal Initiative, established in 2013 to protect, restore and enhance critical coastal wetland habitat in Delaware Bayshore and the Atlantic Coast of New Jersey.
The initiative has already protected, restored or enhanced more than 7,600 acres of coastal wetlands. The third phase has started, a $4 million effort to protect or enhance an additional 1,772 acres.
Jim Feaga, Ducks Unlimited regional biologist in New Jersey, is proud of the award because of the partnerships required to benefit wetlands on a large scale.
Ducks Unlimited greatly appreciates this recognition, Feaga said. Wetlands conservation takes a lot of resources, expertise and money. We couldnt do this without the support of the New Jersey Division of Fish and Wildlife and the other partners of the Southeast New Jersey Coastal Initiative, who are champions of wetlands conservation.
Ducks Unlimited has conserved more than 17,000 acres of wetlands in New Jersey alone, and more than 14 million across North America.
Wetland habitats are crucial to more than just wildlife habitat. They protect against erosion, curb flooding, improve water quality and refill groundwater. But New Jersey wetlands face challenges on two fronts. New Jersey is the most densely populated state in the United States and nearly 40 percent of its historic wetlands have been lost.
Offshore, rising sea levels mean increased damage to coastal habitats from extreme weather events, which will affect natural resources for generations.
Visit www.ducks.org/new-jersey to see project sites or to learn how to support wetlands conservation.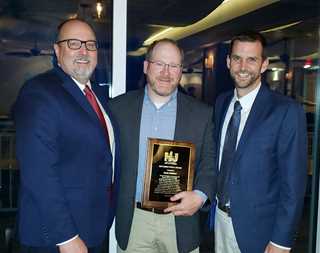 From left: Ray Szpond, Jr., president of New Jersey Federation of Sportsmens Clubs; Jim Feaga, regional biologist for Ducks Unlimited in New Jersey; David Golden, acting director for New Jersey Division of Fish and Wildlife. High-res version
Ducks Unlimited Inc. is the world's largest nonprofit organization dedicated to conserving North America's continually disappearing waterfowl habitats. Established in 1937, Ducks Unlimited has conserved more than 14 million acres thanks to contributions from more than a million supporters across the continent. Guided by science and dedicated to program efficiency, DU works toward the vision of wetlands sufficient to fill the skies with waterfowl today, tomorrow and forever. For more information on our work, visit www.ducks.org.
Media Contact:
Chris Sebastian
(734) 623-2017
csebastian@ducks.org
@GLARducks