Montezuma to remain Atlantic Flyway gem
Federal, state, local organizations ramp up partnership
SENECA FALLS, New York May 30, 2019 The Montezuma Wetlands Complex in Seneca County is an outdoors enthusiasts playground, attracting hunters, hikers and birders from across the northeastern United States.
A renewed multi-agency partnership dedicated to conserving this outdoors gem announced new efforts keep the 18,500-acre Montezuma Wetlands Complex one of the premier wetland areas in the eastern United States.
The Montezuma Wetlands Complex Land Protection Partnership unites Ducks Unlimited, the U.S. Fish and Wildlife Service, New York State Department of Environmental Conservation, Finger Lakes Land Trust, The Nature Conservancy and private landowners under a common goal to protect the critical wetland resources at Montezuma.
For lifelong hunter Darin Katta of Fredonia, the partnership produced a wetlands habitat worthy of a two-hour pilgrimage each waterfowl season. He has made the trip each fall for 15 years with friends or sometimes just with mans best friend, his dog, Talon.
For me its the diversity of birds, Katta said. In western New York where I live, we see wood ducks when theyre here, mallards and black ducks. But at Montezuma, throughout the season you see pintail, widgeon, teal, ring-necks, bluebill, canvasback and more. The diversity of ducks is amazing.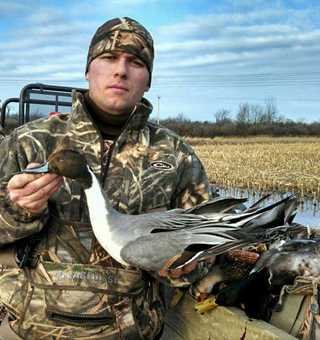 The Montezuma Wetlands Complex Land Protection Partnership was established nearly 20 years ago and already has restored or protected nearly 5,400 acres at Montezuma. This renewed phase of the partnership will create the Montezuma Wetlands Complex Land Protection Strategic Plan. The plan will add new partners, develop software mapping analysis tools and add a conservation staff member to coordinate the continued improvement of the complex.
A partnership of this magnitude, supported by cooperative agencies and local support, has the scope, scientific expertise and tenure to maintain landscape-size conservation success in the Montezuma Wetlands Complex, said Brandy Neveldine, Ducks Unlimited regional biologist in New York.
The new land protection strategic plan is supported with funding from the New York State Conservation Partnership Program (NYSCPP) and New York's Environmental Protection Fund. The NYSCPP is administered by the Land Trust Alliance, in coordination with the state Department of Environmental Conservation.
The diversity of partners illustrates the large amount of expertise and dollars needed to improve wetlands on a scale meaningful to birds, including waterfowl. Montezuma is in the heart of the Atlantic Flyway and attracts nearly 250 species of migrating birds each year.
Some of Kattas best memories are of driving around the complex after morning hunts to observe shore birds, osprey and bald eagles.
Keep your eye in the sky and youll continuously see birds, he said. Youll be amazed at the migration. There are times Ill see thousands of pintails in one spot. Its unique, and incredible.
About the Land Trust Alliance
Founded in 1982, the Land Trust Alliance is a national land conservation organization that works to save the places people need and love by strengthening land conservation across America. The Alliance represents 1,000-member land trusts supported by more than 200,000 volunteers and 4.6 million members nationwide. The Alliance is based in Washington, D.C., and operates several regional offices.
About Ducks Unlimited
Ducks Unlimited Inc. is the world's largest nonprofit organization dedicated to conserving North America's continually disappearing waterfowl habitats. Established in 1937, Ducks Unlimited has conserved more than 14 million acres thanks to contributions from more than a million supporters across the continent. Guided by science and dedicated to program efficiency, DU works toward the vision of wetlands sufficient to fill the skies with waterfowl today, tomorrow and forever. For more information on our work, visit www.ducks.org.
Media Contact:
Chris Sebastian
(734) 623-2017
csebastian@ducks.org
@GLARducks