Life Insurance Can Provide Security for Your Family and Support for DU
If you like the idea of turning small investments into big results, life insurance may be a good tool for you. And it is a great bargain right now. Because of increased competition in the industry, life insurance is an incredibly efficient way to provide for your family or build a charitable legacy in your name. If you want to help your family or help causes like Ducks Unlimiteds, or both, and do it relatively inexpensively, life insurance is a wonderful way to accomplish your goals.
In addition to lower premiums for life insurance, competition also means that more kinds of life insurance are now available. There are plans and policies available to fit almost any situation. And even those who thought they were uninsurable may find coverage easier to obtain. Another option to consider is insuring a child or grandchild at an even more attractive rate. Life insurance is an effective way to provide for your family, because the funds they receive are free of income tax.
You can also use life insurance to replace what you have chosen to give to charity. As with family, you can designate a charitable organization like DU as the beneficiary of your life insurance. For even greater tax benefits, you can give the policy to the charity, which then becomes both the owner and the beneficiary. This owner-beneficiary arrangement is the absolute best leveraging tool available.
Life insurance can be a useful way to provide for your family, build your charitable legacy, or do both at bargain prices. Whether as wealth replacement for your family or as part of a tax advantaged gift to support DUs mission, gifts of life insurance can help you achieve your goals at a minimal cost.
---
Donor Highlight: The Heaps Family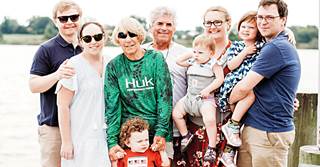 A familiar face to many at Ducks Unlimited, Chip Heaps has contributed to the organization as a volunteer and staff member for decades. He began volunteering in 1983 and recently retired after a 32-year career with DU.
Chip and his wife, Patty, have been faithful and generous donors to DU as Major Sponsors and members of the Feather Society. Patty and I joined the Feather Society, DUs giving level for estate gifts, in its early days because we felt it was the right thing to do for the ducks, Chip said. We also wanted to help the Feather Society grow as a program and thought others might follow our lead. They certainly did. Chips home state of Maryland is one of the top-performing states for total number of Feather Society donors.
Patty and Chip funded a whole life insurance policy with DU named as the owner-beneficiary. This was a way for them to make a significant legacy gift to DU for a nominal investment. This life insurance policy cost the Heaps a tax-deductible investment of less than $2,500 and generated a Feather Society gift of $250,000 for Ducks Unlimited.
Chip continues to work for the ducks. In July, he took on the volunteer role of Maryland State Campaign Chairman and will continue his work with Major Sponsors and the Major Sponsor Program.