Iowa Campaign Chairman Bouma Sees Brighter Future
Jim Bouma helps generate support for DU's mission, and the next generation
When Jim Bouma looks up, he sees an opportunity.
"Sitting outdoors and see a flock of geese overhead, you say, I hope I was able to help that goose live this far," Bouma said. "That's all done through conservation."
Bouma, of West Des Moines, is Ducks Unlimited's Iowa state campaign chairman. It's his job to help generate major sponsorship development throughout the state. He's also an area chairman for the Big Creek Chapter and the state's art chairman.
Bouma joined DU years ago with a friend in high school, hunting on weekends and before or after school. He's taken on more responsibility as a volunteer because he knows the waterfowl in Iowa rely on conservation efforts from Ducks Unlimited.
"I got hooked. Now those hunting places I used to go to are gone because of development. That's why I'm so passionate about it. I want to leave something for my kids and their kids," he said.
Bouma enjoys meeting new people at Ducks Unlimited events. Listening to their success stories and hearing someone blowing a duck call gets him motivated to find new DU supporters and members.
Some of the greatest challenges, and rewards, for Bouma's major gifts role are explaining to people how their support helps not only duck hunters. "Conserving wetlands means conserving part of nature, and giving back a little bit, to something that's going to be there when you're gone."
Dominic Lawrence, DU's director of development for Iowa and Minnesota, relies on Bouma and his ability to connect with people from all corners of the state.
"I'm thankful for Jim's willingness to serve DU Iowa. It's evident his passion for the outdoors is directly connected to his kids and their future in the outdoors," Lawrence said.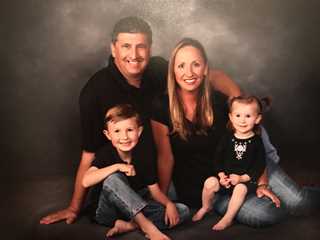 Bouma's work and family keep him busy. He works for FASTSIGNS in Clive, Iowa. He has been married to his wife, Andrea, since 2008. The Boumas have a 7-year-old son Kenley, and 3-year-old girl, Kendall.
Much of the family's quality time includes rodeo-related activities. They have horses, and Andrea teaches her kids her longtime passion of horseback riding. She also was a national champion barrel racer. Their son Kenley is a national champion bull rider and the family travels for events across the region. The family does whatever they can outdoors, including duck and deer hunting and attending rodeos, where Kendall often can be found dressing up for the occasion.