How Do You Like Your Muskrat?
Ducks Unlimited is known for hosting efficient and unique fundraising events across the country
Ducks Unlimited is known for hosting efficient and unique fundraising events across the country. These include various crawfish boils, oyster roasts, and, in Louisiana, the famous roadkill cook-off. However, the Kent County Chapter in Delaware hosts one of the most unusual DU events. This group of committed volunteers serves muskrat at their annual dinner. The tradition started in the mid-1970s, and the menu at the first event featured muskrat, stewed tomatoes, and fried potatoes. That inaugural dinner attracted just over 70 attendees and raised more than $3,000. Now, almost 50 years later, the menu remains the same, and the unusual cuisine has become a tradition among DU supporters in Delaware.
People come from all over to attend the event because its a great time and we raise a lot of money for the ducks, said DU Flyway Senior Vice President Peter MacGaffin. I think people want to see for themselves that we actually serve rat at the event. Its a great time and its a fun way to give back to a great organization.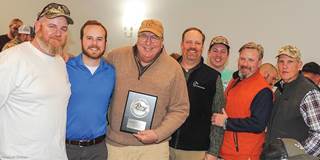 Preparation for the dinner starts almost a year in advance, as 300 muskrats need to be purchased to ensure enough meat for the following years dinner. It takes approximately seven hours over a two-day period to prepare the muskrats, using multiple steps that have been perfected over more than four decades.
Everyone has such a great time preparing the muskrats in the days leading up to the dinner, said Scott Crawford, Kent County DU committee member. This past year was the most successful event weve had, with over 300 event attendees and more than $30,000 raised for DUs conservation mission. There are so many people to thank for making this event a huge success, but specifically the committee would like to thank Ben Biggs for his outstanding assistance with the ticket handling for this event through the years.
To learn more about DU events in your area, visit ducks.org/events.