Hazard K. Campbell Tribute
Former DU president praised for efforts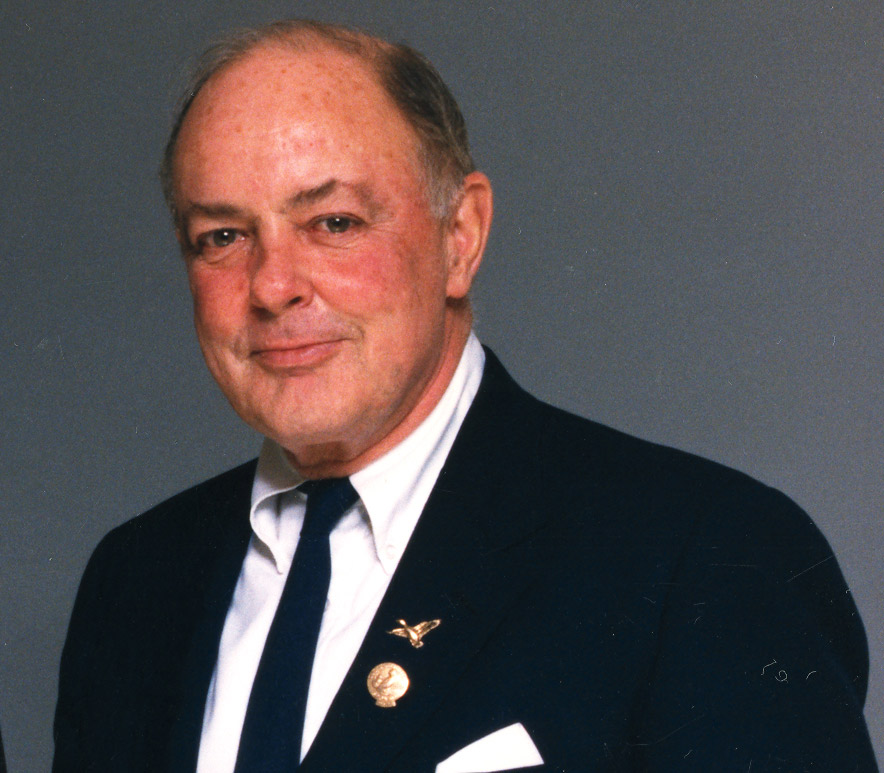 "An international ambassador for philanthropy, Hazard Campbell cut a path for future volunteer leaders of Ducks Unlimited to follow. He was more than just a great mentor to me, he was a hero for conservation," said DU Board Member and Legacy Sponsor Mike Woodward.
This past April people from across this continent gathered in Amherst, New York, to pay tribute to and honor the volunteer and philanthropic leadership of Hazard K. Campbell. Since becoming a member of Ducks Unlimited in 1956 and a sponsor in 1959, Hazard has been involved in almost every aspect of Ducks Unlimited. His early contributions to DU included service as western New York chairman (1970), national trustee (1973), and a founder of the first DU Canada (DUC) chapter (1974). Later, he served as DU Atlantic Flyway regional vice president (1976), a member of the DU Canada (DUC) board of directors (1978), Atlantic Flyway senior vice president (1981), a member of the DU Foundation board (Wetlands America Trust-1982), and a member of the DUC Executive Committee (1984). From 1986 to 1987 Hazard served as president of Ducks Unlimited Inc., chairman of the DU board of directors (1988-1989), and president of the DU Foundation (1991-1993). Hazard also represented DU by delivering a speech at the U.S. Interior Department's reception commemorating the 50th Anniversary of the Federal Duck Stamp program (1984) and attended a White House Rose Garden ceremony with President Ronald Regan.
Hazard currently serves on the emeritus board of Wetlands America Trust, the DU Inc. emeritus board, DUC board, and DUC Habitat and Conservation Committee. He is also on the board of directors of the Waterfowl Research Foundation, a private foundation that funds DU's continental conservation work. Through all these efforts, he has devoted thousands of hours to wetlands and waterfowl conservation.
"Hazard is a legendary figure in DU and a person who has had a lifelong commitment to our waterfowling tradition. This is demonstrated by his true passion and selfless dedication to Ducks Unlimited and our mission to conserve wetlands and waterfowl habitat. His warmth, spirit, and loyalty continue to inspire the entire DU community on both sides of the border," said DU Board Member and Diamond Life Sponsor John Cushman.

Led by a cross-border volunteer committee, the tribute event was a huge success, raising $1.2 million for conservation efforts in both Canada and the United States. Hazard selected the Wetlands for Tomorrow campaign-specifically the Diehl Project-along with the Rescue the Duck Factory and Lake Ontario initiatives to benefit from these tribute gifts.
"By choosing to have tribute gifts that support conservation initiatives in both the United States and Canada, Hazard continues a lifetime commitment to providing continental waterfowl habitat. His passion for the great outdoors, his ongoing volunteer involvement, and his dedication to the mission set a high standard for all volunteers," said DUC Vice President Tom Worden.
Answering the call to save North America's most important waterfowl habitat, Ducks Unlimited's three affiliates-DU Canada (DUC), DU de Mexico, and DU Inc.-launched the Wetlands for Tomorrow campaign with a goal of raising $1.7 billion for conservation. Through this campaign, which is now in its final year, DUC has focused on five strategic objectives: habitat conservation, scientific research, public policy, extension programs, and education.
Located approximately 60 miles northwest of Saskatoon, Saskatchewan, the Diehl Project is situated in one of DUC's highest priority waterfowl landscapes: the Thickwood Hills. This property was purchased in 2001 after DUC had leased it from the Diehl family for eight years. The project consists of approximately 140 acres of waterfowl habitat on the edge of Paddling Lake, a 3,600-acre productive marsh. This area supports nearly 50 breeding pairs of waterfowl per square mile, among the highest duck nesting densities on the Canadian prairies. The most common ducks in this area include canvasbacks, scaup, mallards, gadwalls, and blue-winged teal. In addition, Paddling Lake provides important habitat for arctic geese, swans, sandhill cranes, grebes, pelicans, and shorebirds. Rare and endangered species such as whooping cranes and white-winged scoters have also been observed on the marsh.