Fifth-Annual Collegiate Leadership Summit Largest to Date
The Ducks University program has experienced phenomenal growth over the past five years
The Ducks University program has experienced phenomenal growth over the past five years in both the number of active chapters and the dollars they have raised for wetlands conservation. One of keys to the programs success has been an annual collegiate leadership summit known as Third Term. On the first weekend in August, Third Term welcomes college volunteers from across the country to Memphis, Tennessee, home of Ducks Unlimiteds national headquarters. This years summit was the largest to date, with more than 185 students representing 52 Ducks University chapters nationwide.
Third Term 2018 also brought with it some significant changesnamely, the summits first-ever title sponsor, Axalta Coating Systems. As Third Term grew in popularity and size from year to year, it became apparent that DUs headquarters building, where the event was previously held, would no longer be large enough. With support from Axalta, the Saturday portion of the summit was moved to the Hilton Memphis, where it will be held again in 2019.
The first afternoon of Third Term focuses on networking and relationship building among the college volunteers. Attendees also have a chance to tour headquarters and learn about the different departments run by DU staff.

I am always encouraged to see the impact this summit has on these young volunteers, said Dr. Ronal Roberson, DU advisory senior vice president and chair of the National Youth and Education Committee. One of the most important aspects is the opportunity to talk with peers from across the country that they may not otherwise have a chance to meet.
On Saturday morning, DU First Vice President Doug Schoenrock addressed Ducks University student leaders during a special chairmans breakfast. His message to the college chapter chairs was simple yet powerful: Dont change what you are doing in terms of your leadershipyou are here for a reason. Surround yourself with good people and your ability to succeed will be enhanced.

Following breakfast, attendees heard from several guest speakers during Saturdays business session, including DU CEO Dale Hall, Regina Tracy and William Sturgill from Axalta, and DU National Director of Event Fundraising David Schuessler. Several DU corporate partners were also on hand at this years summit to showcase their products and support of DUs mission: SportDOG, SweetWater Brewing Company, Mossy Oak, Drake Waterfowl, and Artisans.
I was energized to see the excitement and dedication from young women and men who volunteer their time for something they both love and learn from in so many ways, said Tracy, who serves as head of global corporate responsibility and internal communications for Axalta. Their commitment to wetlands conservation today proves that DU is headed in the right direction now and well into the future.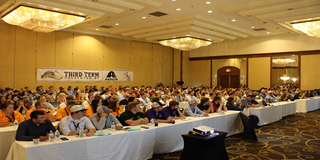 The students learned about a variety of topics including conservation, fundraising, and business development during multiple breakout sessions on Saturday afternoon. The summit was capped off with dinner and an awards presentation on Saturday night, where Ducks University chapters were recognized for their exceptional performance over the past year in a variety of categories.
The night is about having fun and rewarding those in attendance for the dedication they have shown to DUs conservation mission, Roberson said. These college volunteers are already leaders within this organization, and they will continue to be upon their graduation.
The next Third Term collegiate leadership summit will be held August 23, 2019, in Memphis.