Federal wildlife officers honored for prairie work
U.S. Fish and Wildlife Service officers awarded for conservation easement success
MEMPHIS, Tenn. March 10, 2017 Ducks Unlimited recognized 43 U.S. Fish and Wildlife Service (USFWS) Federal Wildlife Officers entrusted with working with private landowners to ensure provisions of wetland and grassland easements are carried out in the Prairie Pothole Region of South Dakota, North Dakota, Montana, Minnesota and Iowa.
The recognition ceremony took place Friday, March 10, at the 82nd North American Wildlife and Natural Resources Conference in Spokane, Washington.
Conservation easements are a crucial tool to protect natural habitat, and Ducks Unlimited has developed a successful partnership with the USFWS for securing easements.
Once easements are secured, however, their protection and compliance becomes the responsibility of federal wildlife officers. Successful enforcement relies on the officers knowing when to negotiate, mediate, stand firm and endure. Easement success requires officers to have superior communication skills when meeting with landowners. Cooperation, conciliation and mutual respect fosters positive relationships between private landowners and federal wildlife officers, which ultimately benefit people and wildlife, including millions of waterfowl in the Prairie Pothole Region.
Each year, the USFWS officers monitor and ensure compliance on about 30,000 easement contracts covering more than 3 million wetland and grassland acres in the Prairie Pothole Region. The Prairie Pothole Region is Ducks Unlimiteds highest conservation priority area.
"This partnership in the Prairie Pothole region is a prime example of meaningful conservation to assure long-term habitat for wildlife and recreational and ecosystem benefits for all," said Paul Schmidt, DU chief conservation officer. "This could not be accomplished without the dedication of the USFWS wildlife enforcement officers who are so deserving of this recognition."
Noreen Walsh, regional director for the USFWS Mountain-Prairie Region, said officers are charged with safeguarding the conservation easements for wetlands, grasslands and wildlife.
"They do this by working with landowners to provide information, troubleshoot difficulties and resolve any health or safety situations," she said. "They demonstrate that conservation is as much about communication and collaboration as it is about science. Im immensely proud of their dedication."
U.S. Fish and Wildlife Service Region 3 officers
Brett Bowser, Minnesota
Doug Briggs, Michigan
Jim Graham, Minnesota
Rodney Hansen, Iowa
Mead Klavetter, Minnesota
Dennis Klimek, Minnesota
Carl Lantz, Iowa
Ashley Look, Minnesota
Charles Melvin III, Minnesota
Scott Pariseau, Minnesota
Chad Raitz, Minnesota
Brent Taylor, Minnesota
U.S. Fish and Wildlife Service Region 6 officers
Dave Azure, South Dakota
Kathy Baer, North Dakota
Tyler Barriere, South Dakota
Jon Beyer, North Dakota
Mike Blessington, South Dakota
Todd Boonstra, Montana
Matt Carman, North Dakota
Ben Cleghorn, North Dakota
Drew Ellis, South Dakota
Matt Fischer, North Dakota
Todd Gallion, North Dakota
Alli Goldman, North Dakota
Wayne Henderson, North Dakota
Eric Hoggarth, South Dakota
Brad Johnson, South Dakota
Kyle Johnson, North Dakota
Brian Keller, South Dakota
Chris Kringstad, North Dakota
Jared Newton, North Dakota
Tom Pabian, North Dakota
Nicole Prescott, Montana
Clay Ronish, Montana
Bryan Schultz, South Dakota
Don Soderlund, South Dakota
John Takala, North Dakota
Matt Van Thuyne, North Dakota
Jared Vignes, Montana
Brian Vose, North Dakota
Scott Williams, North Dakota
Tom Zick, North Dakota
Chad Zorn, North Dakota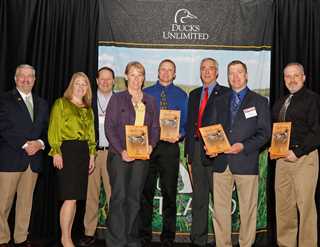 Ducks Unlimited Inc. is the world's largest nonprofit organization dedicated to conserving North America's continually disappearing waterfowl habitats. Established in 1937, Ducks Unlimited has conserved more than 13.8 million acres thanks to contributions from more than a million supporters across the continent. Guided by science and dedicated to program efficiency, DU works toward the vision of wetlands sufficient to fill the skies with waterfowl today, tomorrow and forever. For more information on our work, visit www.ducks.org.
Media Contact:
Chris Sebastian
(734) 623-2017
csebastian@ducks.org