Ducks Unlimited Las Vegas Continental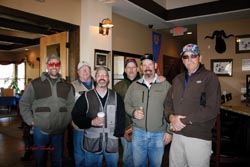 from the June 2011 issue of Sporting Clays Magazine

The Ducks Unlimited Las Vegas Continental saw a lot of happy competitors carrying home hundreds of prizes and awards along with good memories of new friends from Desert Hills Club in Boulder City, Nevada, February 24-27. Corporate sponsorship was amazing, especially in the present economy. On each of the four days of this registered competition, DU gave away 70-plus items provided by those sponsors by way of raffle tickets, shooter registration numbers, and practice field ticket stubs. Another 100 items found new owners during the Saturday-evening dinner. Included in the m´lange were 30 new shotguns and rifles.

A better bargain you're not likely to find from a $300 registration, which also included the two-day main event, Winchester AA ammo, four practice fields, and much more. The live auction during the dinner became quite a boisterous event. A Browning over-under had me raising my hand in bid until my patron saint whispered in my ear, "That's your limit."

It wasn't until about the fourth day that I realized that these birds of a feather normally go hunting during the worst climate of the year. Thursday practice was cool and breezy, with weather warnings on the news. The Friday preliminary was cold and windy, with gusts up to 45 mph. You can imagine what it did to many of the targets and even shot strings. Some clays were blown back into the station or clear out of the zone at times, so there were several repeat targets until we got a safe one. Saturday was windy all day, with a light, cold rain, while the nearby mountaintops turned white with snow.
---
View more on the Sporting Clays website.