DU Supporters Come Together to Help Hurricane Victims
Every year, the Gulf Coast braces for hurricane season, and 2020 was a record-breaker. Hurricane Delta was the 10th named storm to hit the United States, making landfall in Louisiana shortly after Hurricane Laura.
In the wake of these two storms, Ducks Unlimited volunteers, members, and staff from across the United States came together to provide relief to the people of Louisiana any way they could. Its amazing to look back on the situation and see how many people were affected, but also to see how many people came together to provide relief monetarily and physically to help those in need across the state, said DU Senior Regional Director Derrick Davis.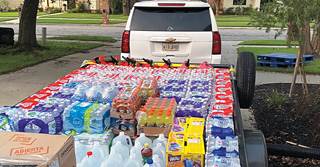 DU volunteers worked together to help those affected by the hurricanes. Local committees delivered 10 pallets of water, more than 100 gallons of gas, generators, hundreds of pounds of nonperishable food, diapers, Clorox wipes, and other supplies. Due to this outpouring of generosity from supporters, these supplies were available before national assistance programs were even in place.
I think its a true testament to the people of Ducks Unlimited, Derrick said. People from all over the nation saw the devastation our state was facing after back-to-back storms, and they wanted to do what they could to help.