DU Launches $3 Billion Conservation for a Continent Campaign
Ducks Unlimited launches single-largest continental wetlands campaign in organization's history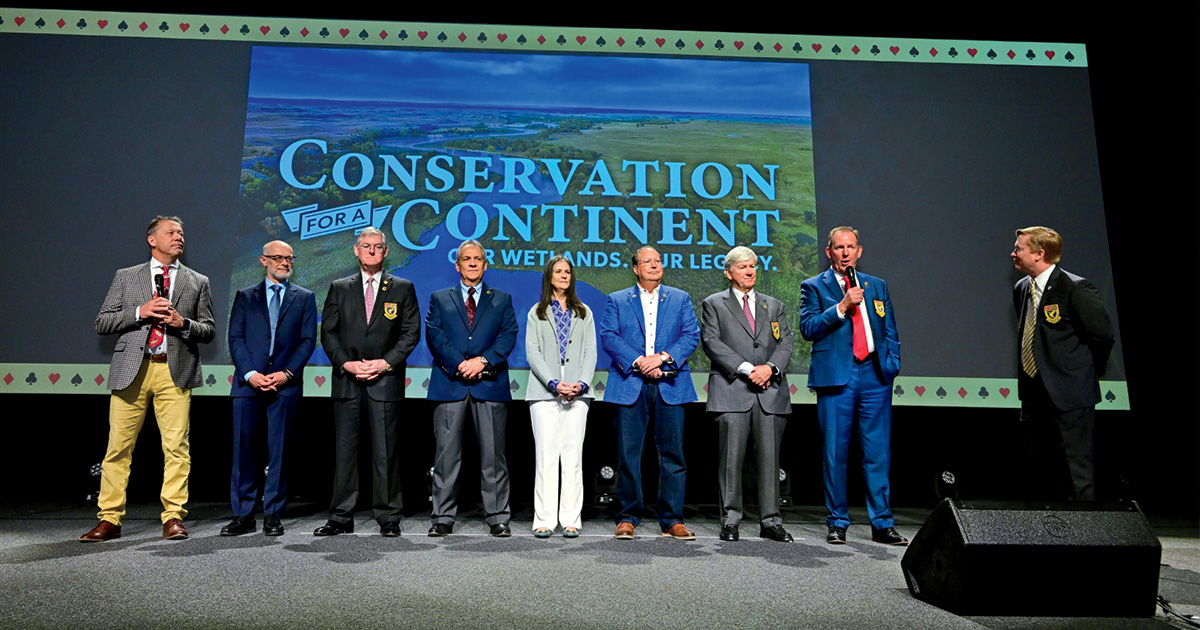 Ducks Unlimited recently kicked off the most ambitious conservation campaign in history on behalf of North America's wetlands and waterfowl. At DU's 86th Annual National Convention in Las Vegas, Nevada, officials from DU Inc., DU Canada, and DU de México launched "Campaign for a Continent. Our Wetlands. Our Legacy." The comprehensive campaign aims to raise $3 billion for habitat work across North America.
"Conservation for a Continent is a powerful statement. It's a campaign that positions us as the true leaders of the global conservation movement," said DU Chairman of the Board Doug Schoenrock. "But it's not just a statement—it's a promise and a goal that represents the single-largest continental wetlands campaign ever."
Conservation for a Continent focuses on five priorities that are vital to the future of our wetlands, waterfowl, communities, and ecosystems. This ambitious effort will build on the 16 million acres that Ducks Unlimited and its partners have collectively conserved across North America.
Breeding Landscapes Conservation
The Breeding Landscapes priority supports DU's efforts to protect and restore crucial wetlands and associated habitats in areas where the majority of the continent's waterfowl are raised. Breeding landscapes such as the Prairie Pothole Region, Great Lakes, and Boreal Forest are top conservation priorities for Ducks Unlimited.
Migration and Wintering Landscapes Conservation
The Migration and Wintering Landscapes priority will bolster DU initiatives in key areas such as the Gulf Coast, Mississippi Alluvial Valley, Central Valley of California, and Atlantic Coast. Investing in these essential landscapes helps ensure that the continent's waterfowl and many other birds safely complete their epic migrations and return to the breeding grounds in prime condition.
Conservation Research and Education
DU is among the world's leading science-based conservation organizations, relying on cutting-edge research and high-tech tools to guide its work on crucial landscapes for wildlife and people. The Conservation Research and Education priority will not only expand DU's scientific capacity, but also help inspire, educate, and train future generations of conservation professionals.
Wetlands Forever
Wetlands encompass only 6 percent of the Earth's land surface yet support 40 percent of all plant and animal species. The Wetlands Forever priority focuses on providing funding for programs that encourage volunteerism and mission-focused conservation projects in areas with the greatest need.
Conservation Legacy
This campaign priority is dedicated to growing DU's endowment, which will help sustain our vital conservation work for decades to come. Through this campaign, DU supporters can make a long-term investment in the future of wetlands and waterfowl and leave a lasting legacy for our children and grandchildren.
Conservation for a Continent will build on the success of DU's groundbreaking Rescue Our Wetlands campaign, which concluded in December 2018. Rescue Our Wetlands raised an astonishing $2.34 billion from more than 2 million donors and conserved 2,236,435 acres of wildlife habitat across North America.