DU Field Experiences Connect Supporters with Conservation
The Platte River has long been recognized as a major migration corridor for the continents waterfowl. Each spring, people travel from all over the world to witness the millions of ducks, geese, and cranes that descend on the river. The Platte is a resting and refueling spot for the birds before they continue their journey north to the prairie breeding grounds. Nearly half a million sandhill cranes gather every year on the Platte River in central Nebraska, representing 80 percent of the worlds population of sandhills.
The birds are welcomed by hundreds of landowners, conservation partners, and local Ducks Unlimited donors and volunteers who share a passion for conserving the rivers wetland resources and rich waterfowling traditions.
Terry Kostinec, Ducks Unlimiteds director of development for Nebraska and South Dakota, remarks: Several years ago, DU conducted a donor survey. We learned that our donors want to be able to visit our conservation projects to learn how we impact wildlife, people, and the sustainability of our resources. In response to the survey, DU has developed several Field Experiences across the United States, Canada, and Mexico.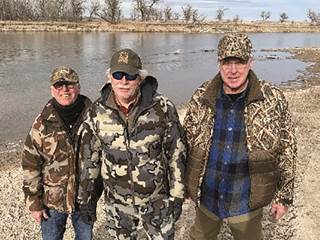 Gold Benefactor Sponsors Don Pegler and John Brager and Diamond Heritage Sponsor Tom Smith of Lincoln, Nebraska, were interested in learning more about DUs work to preserve and restore habitat along the Platte River. They accepted an offer to join other supporters for the annual DU North Platte River Experience. I enjoyed the opportunity to hunt the Platte River with my friends and other passionate DU supporters from around the country, Tom says. And it was truly an eye-opening experience touring the projects with DUs engineers and biologists.
Each day of the experience begins with a hunt along the North Platte River hosted by local landowners and DU supporters. The afternoons are spent touring conservation projects with DU biologists and engineers. Local DU donors host evening meals for the guests, providing unique opportunities for in-depth conversations with landowners, DU conservation staff, and other DU Major Sponsors. With the continued support of passionate friends, landowners, and other conservation partners, DU is working to ensure that one of Americas greatest waterfowl migration areas will be preserved for generations to come.