DU and Filson expand limited edition collection
MEMPHIS, Tenn. - Mar. 10, 2021- Ducks Unlimited (DU) and Filson, two iconic American heritage brands, announced a new assortment of limited edition co-branded products for spring. The new Filson/Ducks Unlimited luggage and apparel pieces are an expansion of last year's partnership and accompanying product collection. All products feature DU's licensed trademark and proceeds will support Ducks Unlimited's conservation efforts.
"Filson is committed to supporting organizations like Ducks Unlimited that advocate for the protection of wildlife and the preservation of natural habitats," said Doug Thielen, director of marketing at Filson. "Following the success of the initial Ducks Unlimited collection, we're excited to add new products to the line as part of our ongoing DU partnership supporting waterfowl conservation efforts nationwide."
Filson has a long-standing heritage in the outdoors. They are committed to supporting DU's conservation mission, while sharing similar missions of sustainability and the promotion of outdoor recreation.
"Ducks Unlimited is excited about the expansion of our program and of our continuing partnership with Filson," said DU Managing Director of Corporate Relations Jim Alexander. "We are equally proud of the success of the first product launch this past Fall. We are looking forward to building on our success in 2020 and enhancing our co-branded product collection by offering these new items."
In addition to the expanded product line, DU and Filson will host two Instagram Live events:
March 16, 8 p.m. EST/5 p.m. PST: To help celebrate the launch, join DU President Doug Schoenrock and listen to a friend of both Filson and DU, Jordan Davis, as he plays some of his feel-good country music. Follow @filson1897 or visit https://www.filson.com/blog/field-notes/filson-live/ for more information.
March 19, 2 p.m. EST/11 a.m. PST: Join renowned photographer Lee Kjos and DU's Creative Director Doug Barnes as they share a conversation on conservation. You'll also see behind-the-scenes photos from Lee's work with Filson over the years. Follow @filson1897 for more information.
New Filson x Ducks Unlimited Products: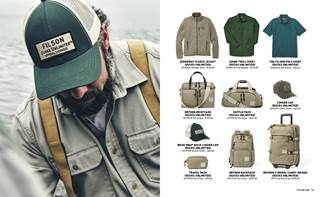 Ducks UnlimitedChino Twill Shirt
Ducks Unlimited Dryden Briefcase
The full collection including the previously released apparel, bags and accessories is available online at Filson.com, at select wholesale partners and at Filson's retail stores across the United States.
For more information visit www.ducks.org. Follow DU's newest Twitter feed - @DUNews1937 - to get the most up-to-date news from Ducks Unlimited.
About Filson
Established in Seattle in 1897 to outfit prospectors headed for the Yukon, the company's 123-year legacy is built upon its reputation for honesty, quality and durability. Filson's long-lasting gear is the choice of explorers, adventurers, ranchers, hunters, anglers, engineers and anyone with a passion for the outdoors. Over a century after its founding, the Filson headquarters remain in Seattle, Washington. For more information, go to Filson.com.
About Ducks Unlimited
Ducks Unlimited Inc. is the world's largest nonprofit organization dedicated to conserving North America's continually disappearing waterfowl habitats. Established in 1937, Ducks Unlimited has conserved almost 15 million acres thanks to contributions from more than a million supporters across the continent. Guided by science and dedicated to program efficiency, DU works toward the vision of wetlands sufficient to fill the skies with waterfowl today, tomorrow and forever. For more information on our work, visit www.ducks.org.
Media Contact:
Carrie Patterson
(901) 758-3980
cpatterson@ducks.org