Drawing new answers from wetland research
DU biologist studying how effective managed wetland restorations can be for wildlife
As a science-based conservation organization, Ducks Unlimited decides where and how to work based on decades of research.
Ducks Unlimited leads this research and DU New York Biologist Ed Farley is in the final year of a study to determine how effective managed wetland restorations can be for wildlife.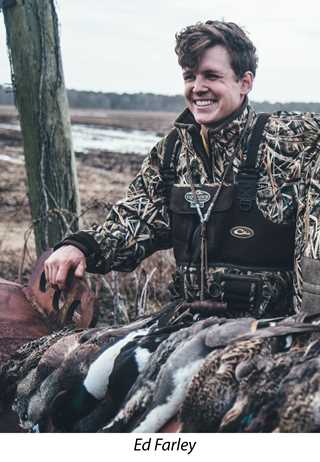 The goal of the study is to determine how plants and animals respond to wetland restoration and management so organizations like Ducks Unlimited can shape their approach to habitat conservation.
The study samples 30 managed wetlands at Montezuma which are divided into three groups: Wetlands passively managed, meaning they are not drawn down to mimic natural water level changes; wetlands partially drawn down and wetlands fully drawn down, so nearly all the soils are exposed during the growing season.
Farley is determining if drawdowns are as beneficial to managed wetlands as previous studies indicate. The theory is that by drawing down, or temporarily draining, a wetland, managers give submerged seed banks the ability to germinate and create new plants. New plants mean new habitat for waterfowl and other wetland wildlife.
Instead of using one measurement, as past studies have done, Farley and the team are using a host of metrics to assess the response of these 30 wetlands to restoration and management. They are using spring and summer bird survey, vegetation surveys, invertebrates sampling and core sampling.
Farley expects to fully analyze the results by summer 2019. Early results are affirming the management practice of drawing down.
"We had the expectation that fully drawn down wetlands would show greater seed production versus those just passively managed," he said. "So far, we're seeing exactly that from our core samples. This is important because wetland plant seeds are an important waterfowl food source."
This research is exciting to Farley because the results will be be applied across similar wetlands.
"The science is not abstract, it has real-world implications," he said. "We will use what we learn to direct on-the-ground management."
Michael Schummer, Ph.D., is the Roosevelt Waterfowl Ecologist at SUNY-ESF and is overseeing Farley's work on the project.
"Ultimately our aim is to provide the information necessary for wetlands conservationists and managers to provide habitat for migrating waterfowl through the Montezuma region, but also ensure that the larger suite of wetland-wildlife like rails, osprey, terns, shorebirds, and muskrats also have places to live and thrive."
John Coluccy, Ph.D., is director of conservation planning for Ducks Unlimited's Great Lakes/Atlantic Region and assisted Schummer in overseeing Farley's work. Coluccy is excited not just for Farley's work, but also helping train future scientists.
"We are educating the next generation of wetland/waterfowl ecologists," Coluccy said. "Someday our graduate student and technicians will fill our shoes and be leaders in the field."
Project supporters include the New York Department of Environmental Conservation, Bird Studies Canada, SUNY-ESF, Waterfowl Research Foundation, Ducks Unlimited, Ducks Unlimited Canada, Eddie and Jo Allison Smith and Donnie and Linda Lassiter.