Drawing Inspiration
DU's Artist of the Year passes on his love of waterfowl and art to the next generation
by Emily Robinson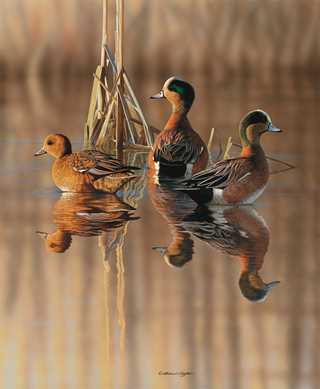 Wildlife artist Richard Clifton has an impressive record. His artwork has appeared on 51 state waterfowl stamps, the 2007-2008 federal duck stamp, and the 1996 Australian duck stamp. He has appeared in the Ducks Unlimited National Art Package 13 times. And in 2019, Clifton not only was named DU Artist of the Year for a third time but also became the first individual to hold the title for two years in a row.
"I thought it was huge to be the first artist to ever accomplish that," Clifton says. "Ducks are neat birds: there are so many different species that all have unique and interesting patterns that, as an artist, are exciting to think about painting. That's why they're still one of my favorite subjects to paint after all these years."
Clifton's deep appreciation for wildlife art began when he was growing up on his family's Delaware farm, where he could often be spotted sketching everything from farm equipment to songbirds and waterfowl. This passion is one he hopes to pass on to the next generation. One way he is accomplishing this is by partnering with the American Birding Association (ABA) to host an annual ABA Young Birders tour on his property. Clifton and his wife, Terri, hosted the first tour in 2017 and made an interesting discovery that they carried into the 2018 event.
"Some of those young birders are also interested in drawing and painting. They come with their sketchpads and sometimes even watercolor sets to capture the beauty of the birds," Clifton says. "That first year we did a birding walk around the farm and then had them come back to the studio, where an impromptu drawing session broke out. In 2018, about half the group of 24 kids participated in a planned sketch session where I had a mounted black scoter and fulvous whistling duck that we used for reference."
Clifton spent the session walking from one young artist to the next, talking with them about their work and talent. "Back when I was a teenager and was interested in birding and drawing, it would have been so cool to go to a real wildlife artist's studio and gallery to sit and learn and draw together. I'm glad to do that for these kids," he says. "It gives me hope for the future of art, wildlife conservation, and our country to hear about what these young people are into and what's important to them. I hope to continue to be able to host these events in the years to come."
In his 2019 winning entry to Ducks Unlimited, Clifton chose to depict a group of American wigeon that he photographed on Prime Hook National Wildlife Refuge, which lies adjacent to his property in Milford, Delaware. "It was late winter or very early spring and I had noticed a mixed group of duck species-wigeon, gadwalls, and some hooded mergansers-hanging out on one of the smaller ponds," Clifton recalls. "I pulled up in my truck and used it as a blind as I waited for the sun to come up and hit the birds."
Clifton, who enters several state waterfowl stamp contests and the Federal Duck Stamp Contest each year, says he appreciates the freedom that comes with submitting his work for DU's National Art Package. "There's more room to express yourself as an artist, create a little more mood, and maybe even use images with overlooked species or birds in interesting positions, like I did with Sunshine Wigeon," he explains. "I'm a big-time waterfowl hunter, but I'm also a waterfowl enthusiast. The 'ducky' side of me that just likes to get out and watch waterfowl and see how they move gets to come out in the paintings I submit to Ducks Unlimited."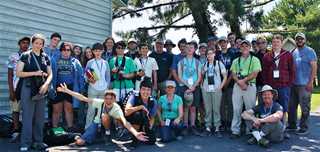 For the past two years, DU Artist of the Year Richard Clifton has worked with the American Birding Association to host a tour of his Delaware farm for young birders. Through this experience he passes along his love of waterfowl, songbirds, and other wildlife to the next generation of outdoorsmen and women. He has also had the opportunity to nurture many of the young people's passion for wildlife art during drawing sessions at his art studio.
---
DUCKS UNLIMITED'S 2019 NATIONAL ART PACKAGE // CONTRIBUTING ARTISTS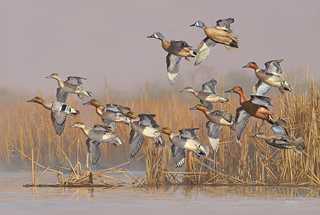 TEAL TIME
By Scot Storm
Teal Time features a colorful flock of green-winged, blue-winged, and cinnamon teal heading out of the marsh. Scot Storm's painting of a wood duck drake and classic decoy will appear on the 2019-2020 federal duck stamp, to be released in June.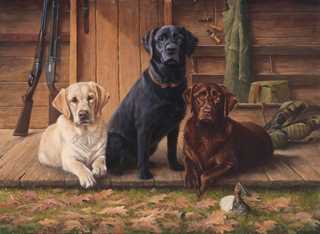 BREAK TIME
By Jim Killen
In Break Time, a tricolor trio of loyal Labs rests on a wooden porch after a long autumn day in the field. Jim Killen has been recognized as DU Artist of the Year three times.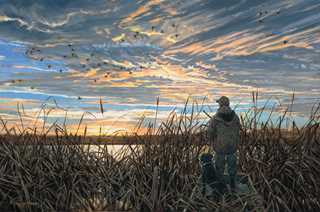 YOUNG HUNTERS AT DAWN
By Bruce Miller
A young hunter and his canine companion stand ready for an early-morning hunt in this serene painting by northern Minnesota artist Bruce Miller. This marks Miller's ninth appearance in DU's National Art Package.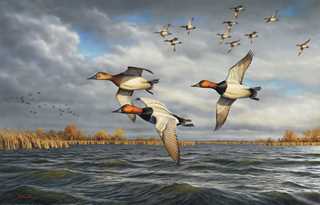 FIRST PASS
By Bob Hautman
This captivating painting by Bob Hautman features canvasbacks flying over rough waters on the leading edge of a storm front. First Pass is Hautman's fifth appearance in DU's National Art Package.
---
DU'S GUNS OF THE YEAR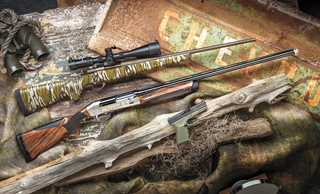 The Ducks Unlimited 2019 Shotgun of the Year is the Benelli Super Black Eagle 3. This 12-gauge semiautomatic shotgun features a 3 1/2" chamber-a first for DU's Shotgun of the Year. A 28" polished blued barrel with interchangeable choke tubes, oil-finished walnut stock, and two-tone embellishments with an engraved waterfowl scene round out this beautiful firearm. A hard-plastic DU case and a gun lock are included.
The 2019 Rifle of the Year is the Howa Model 1500/H-S Precision in DU Mossy Oak Bottomland camo. Chambered in 6.5 Creedmoor, this bolt-action rifle features an H-S Precision stock, midnight bronze Cerakote metal treatments, a mounted and bore-sighted Nikko Stirling 4-16x44 scope, and the DU logo on the floor plate. A bipod and gun lock are included.
The 2019 Handgun of the Year is the Glock 19. This 9mm semiautomatic pistol has a 4" barrel and a two-tone frame and slide in battlefield green and oxide black. The slide also features the DU logo and embellishments. The Handgun of the Year package also contains a matching fixed-blade Glock knife, DU hard case, and gun lock.