Denver Sponsor Gala Delivers for the Ducks
Ducks Unlimited's strength in converting dollars to conserved wetlands is unrivaled
Ducks Unlimiteds strength in converting dollars to conserved wetlands is unrivaled. At the heart of the organizations fundraising efforts are its volunteers and the highly successful events they host in communities nationwide. The Denver, Colorado, chapter has risen to the top of this list with its annual Denver Sponsor Gala, which has been the highest-grossing DU event in the country for the past three years.
In fall 2018, the 5th Annual Denver Sponsor Gala, hosted by Colorado icon and past DU President Pete Coors, drew in more than 550 guests and raised $1.7 million for wetlands and waterfowl conservation. This fast-paced, high-energy bash was led by Area Chairman Sam Wigand and executed by an army of 60 volunteers from a dozen different chapters across the state, proving the power of Team DU. The evenings auction featured unusual and exotic items, including a live steer, collectible firearms, custom fishing gear, a custom golf cart, and a multitude of bucket-list trips, all framed against a backdrop that included live music, an ice luge whiskey cocktail dispenser, live ducks, flying decoys, live-painted artwork, custom Denver Galalabeled Coors IPA beer, and striking audio-visual effects.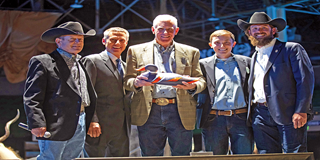 The events revenue has grown steadily since the inaugural gala in 2014. Theres a reason the Denver Gala is among the top-tier events year after year, says DU CEO Dale Hall, who attended the 2018 event. The involvement of Pete Coors, the energy and commitment of the volunteers, and a phenomenal staff make for an evening of fun and conservation.

The gala attracts a diverse group of Major Sponsors and grassroots supporters each year. Our event has wide-ranging appeal, Sam says. This year we moved to a much bigger venue, which allowed us to introduce even more merchandise and a lower table price. With a 150-item silent auction, diverse raffles, and a premier live auction, theres quite literally something for everyone.
Naturally, the generosity of DUs loyal supporters is a key factor of the galas success. This event enjoys a huge outpouring of philanthropic support from major gifts, says DU Director of Development Kirk Davidson. Our Major Sponsors not only support the gala financially but also bring their friends and colleagues to the event and often donate products and merchandise too.