Certified for Success
DU's Ecology Conservation and Management Certification provides a solid foundation for up-and-coming professionals in the field
By Jennifer Boudart
Ducks Unlimited is making a nationwide impact on conservation education with its innovative Ecology Conservation and Management Certification. Launched in 2019, this career and technical education (CTE) certification is designed to provide the next generation with the knowledge and confidence they need to pursue college degrees and careers in wildlife ecology and natural resources management. Originally developed for high school students, the certification is also proving to be a valuable credential for people further along in their education or professional careers.
"We are the only conservation organization to offer our own CTE certification," says Mark Horobetz, Ducks Unlimited's manager of R3 (recruitment, retention, and reactivation) programs. "And it goes beyond the scope of DU. We want to create a pipeline of qualified and committed professionals for all fields related to wildlife and habitat management. While the curriculum does cover the ecology of wetlands and waterfowl, it also covers forests and grasslands and many species of wildlife."
Content for the certification was developed by DU scientists and conservation staff in partnership with iCEV, a leader in online CTE certification instruction and testing. "In talking with iCEV, we realized a lot of wildlife courses at the high school level were going by the wayside because teachers just didn't have the curriculum to teach," Horobetz says. "Our certification helps to fill that gap."
Students may complete coursework with a teacher in the classroom or take it online at their own pace. Lessons focus on the areas of ecological principles, species identification, wildlife conservation and management, and habitat conservation and management. Each lesson includes videos, slides, worksheets, and assessments. Some of the videos feature career profiles of DU staff. Teachers also have options for activities, research projects, and field work. Participants who pass the 100-question certification exam receive a certificate and a one-year DU membership.
Max Marzluf earned the certification last fall during his senior year at Rutherford B. Hayes High School in Delaware, Ohio. Students there may attend afternoon classes at the Delaware Area Career Center, and that's where Marzluf learned about the certification from one of his teachers. Because of his passion for wildlife and hunting, Marzluf was immediately interested. He also wanted to learn more about waterfowl ecology and identification as well as careers in natural resources conservation.
Marzluf says he was surprised by the depth of the course material and the fact that it covered more than ducks. "I went from a very narrow focus on big game animals and forests to knowing about wetlands and prairies and how big game animals and upland birds and waterfowl all are connected. That wider focus is going to give me a leg up in my career and help me do a better job in the future as a biologist or ecologist." Marzluf will serve four years in the military and ultimately hopes to major in wildlife and fisheries at the University of Montana.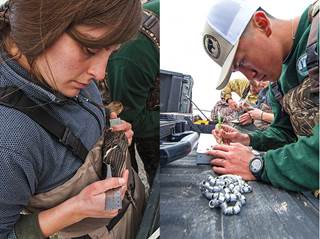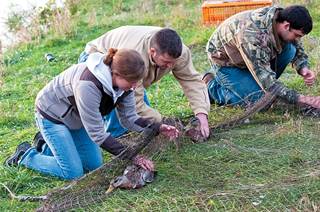 The certification is currently approved in 14 states that have CTE certification approval programs and is pending in 10 others. Most states require letters of support from local businesses as part of the approval process. These letters must describe the need for the certification and acknowledge that students applying for employment with a given business would be considered more competitive if they've earned it. Horobetz says DU donors, volunteers, and staff at the state level have been very helpful in securing these letters, as they often have good relationships with suitable businesses. DU's goal is to gain approval for the certificate in all states that have CTE approval programs.
Meanwhile, demand for the certification is growing beyond the high school level, Horobetz says. A handful of colleges and universities have recently added it to their wildlife course offerings. For example, the certification now counts as a two-hour credit for wildlife majors at Louisiana State University (LSU)-an addition made possible by longtime DU volunteer Dr. Luke Laborde, who recently completed his assignment as the interim vice president for agriculture and dean of the College of Agriculture at LSU. Horobetz says DU is working with iCEV to add more colleges and universities to the list.
Delanie Warren learned about the certification just before graduating from Texas A&M University with a degree in rangeland ecology and management. After chatting with a representative for iCEV at a DU convention, she decided to complete it online. "Combining the certification with my degree was definitely beneficial," Warren explains. "The content goes beyond waterfowl. It covers a great deal about wetland ecology and management practices."
Warren feels the certification aided with her acceptance into a graduate certificate program in waterfowl habitat and recreation management at the University of Arkansas at Monticello. "Having it on my résumé showed I was really involved with DU and I really knew where I wanted to go with my career." Today, Warren works as a DU biologist in Colorado and Wyoming, which she calls her dream job. She says she has convinced several of her friends to get the certification. "I would tell anyone who wants to get into this field or into land management that this certificate is very important because it covers the basics of management practices and wetland ecology."
Horobetz is working to make DU volunteers and staff aware of the certification as well. "As we expand our membership base to those outside the duck hunting community, it's important for us to educate our staff and our volunteers on a higher level about where we work, how we work, and why we work," Horobetz says. "Our certification really gives them the ability to speak more in-depth about DU's mission."
Kathy Christian agrees. A longtime DU volunteer, Christian is currently the senior advisory vice president of DU's Membership Committee. Christian earned the certification at the end of 2021, shortly after retiring from a career as an IT professional. Her husband, Steve, who is a DU regional vice president, earned the certification in 2020. "He told me, 'Kathy, you really need to do this, because conservation isn't your professional training, but with you being involved with DU, I think you would get a lot out of it.'"
Christian spent roughly three weeks completing the lessons before taking the exam. "It was intense, but I learned so much. The lessons explain the actual science behind what DU does, along with the history of US conservation. The content really helped me connect the dots with the different pieces of data that I have learned about DU over the last 25 years."
Christian says she feels better equipped to speak with members, donors, and staff about the value of DU's work and the wider benefits it offers for wildlife and people. She firmly believes everyone connected to DU can benefit from the certification and has recommended it to other volunteers and board members. "If you are going to support something, it's vital to understand what you're supporting. I now have a more holistic view of how land, water, and living things are connected. I have a deeper awareness, and I'm an even stronger supporter of DU," Christian says.
To date, DU's CTE certification has been awarded to more than 1,100 participants across the United States. "We are proud to provide this high-level content for anyone wanting to increase their knowledge in the natural resources arena," Horobetz says. "And people are proud of it too-they're getting their certificates framed and hanging them on the wall. Having that duck head on the certificate is just awesome." For more information about the Ecology Conservation and Management Certification, visit the DU website at ducks.org/certification.