Capstone Gala Celebrates Rescue Our Wetlands Campaign
Event attracted 300 people, generated more than $3 million in commitments.
This summer, one of the most successful events in Ducks Unlimited history celebrated the largest fundraising campaign in wetlands conservation.
The Rescue our Wetlands Capstone Gala was July 21 at the Westin Chicago North Shore, attracting 300 people and earning more than $3 million in commitment in one evening.
"This went beyond fundraising. This was celebrating the upcoming culmination of a fantastic campaign," said Bryan Wiesner, member of the Ducks Unlimited Lake Forest Chapter and event co-chair with Steve Worth.
Ducks Unlimited's Rescue Our Wetlands: Banding Together for Waterfowl campaign was launched in 2015 with the ambitious goal of raising $2 billion for continental wetlands conservation. For the Chicago Gala, Wiesner and the committee wanted to create an experience as bold as the campaign itself, which will conclude in December.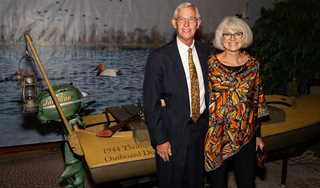 The gala included an inspirational speech from John W. Thompson, chairman of the board for Microsoft and board member for DU's Wetlands America Trust. It included actors appearing in character representing Ducks Unlimited founder Joseph Knapp, conservationist Aldo Leopold and others. And it meant immersing guests in a room unique from every other Ducks Unlimited event.
"One of my favorite moments of the night was the look on people's faces when they saw a wetland marsh with living cattails in the middle of the room," Wiesner said. "Nobody had been to a DU dinner that looked like that."
The committee is pleased with the gala's success, even beyond the generosity of supporters that evening. Wiesner said he hopes other chapters across the country are challenged to surpass the Chicago event's totals for the good of conservation.
"It's humbling; I feel like we accomplished what set out to do," he said. "There's a tremendous amount of opportunity, but it shows us that we have a long way to go."