California's waterfowl, hunters get a boost thanks to wet winter
California breeding survey finds 30% increase in duck populations.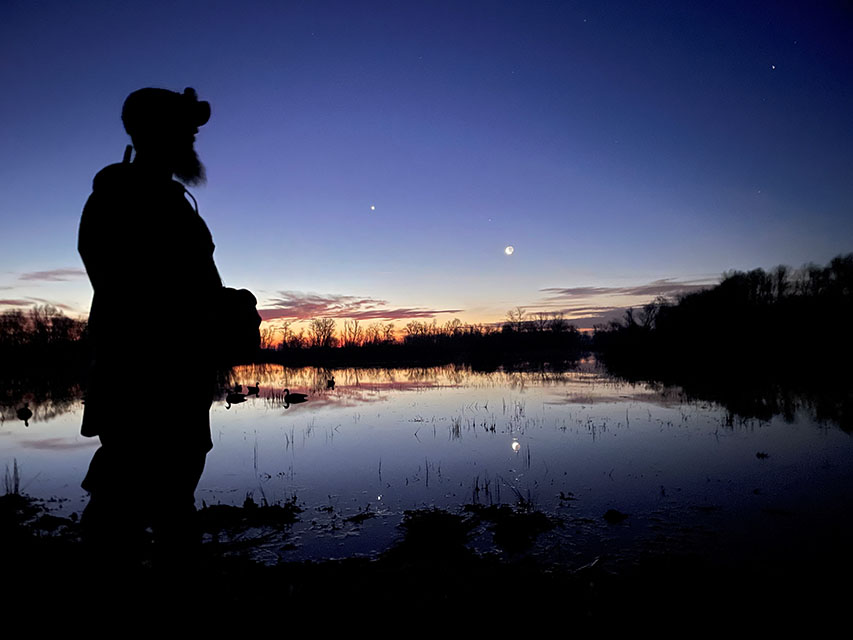 Hunters and waterfowl should have plenty of habitat this hunting season in California thanks to record-breaking winter rain and snowfall.
Due to the state's major reservoirs filling up this spring, water will await hunters at their rice blinds, duck clubs and public hunting grounds this fall and winter. An increase in water on the landscape also made for much better spring nesting habitat for California's waterfowl after years of drought.
The bountiful water year is reflected in the California Department of Fish and Wildlife's annual resident waterfowl survey released this week.
The survey found that California's breeding duck population increased from an estimated 379,870 birds in 2022 to 495,438 – a 30% increase from the previous year.
Hunters who have noticed a decline in local mallard numbers over the years will be heartened to learn mallards were the most abundant duck observed in the survey, and their numbers were up 13% from the previous year.
Mallard populations, however, remain at 38% below the long-term average, reflecting the ongoing lack of water at key habitats such as Lower Klamath and Tule Lake national wildlife refuges in the Klamath Basin. Lower Klamath and Tule Lake are where a large percentage of the state's mallards traditionally raise their young and molt during the summer.
Other highlights from the state's resident waterfowl survey include:
Gadwalls increased 16% from 2022 and are 2% above long-term average.
Northern shovelers increased 134% from 2022 and are 236% above long-term average.
Cinnamon teal increased 45% from 2022 and are 21% below long-term average.
Canada geese in Northeastern California increased 30% from 2022 and are 36% above long-term average.
"How many ducks will likely find their way into California this winter still awaits the results of the continental breeding ground surveys that won't be released until mid-August," said Dr. Mark Petrie, a waterfowl biologist for Ducks Unlimited's Western Region. "However, breeding pair surveys in California do offer some early good news as mallard numbers were up. Although this improvement was expected given the end of the drought, mallard numbers in California are still below the long-term average. Continued wet conditions will be needed for the population to regain its former numbers."
Ample habitat awaits California hunters
California's waterfowl hunters, meanwhile, will have ample habitat to hunt this season on public and private lands across most of the state.
In the Central Valley, full reservoirs have meant that water users are receiving a 100% water-supply allocation for the first time in years. That's especially good news for the Sacramento Valley. Last year, almost all of the rice fields on the west side of the valley and their associated rice blinds were dry. This year, all 500,000 acres of rice normally planted in the Sacramento Valley have received water.
At the same time, the public wildlife refuges and wildlife areas in the Central Valley are expected to receive their full water supply this year, a marked improvement from last waterfowl season. Last year, many public wetlands received limited or delayed water deliveries, and hunters faced reduced quotas at many of the Central Valley's most popular public hunting lands.
"Although we still don't know how many ducks to expect in California this year, we can be certain that there will be more places to hunt this fall," Petrie said. "Public refuges are getting their full allotment of water, and rice fields should provide normal levels of hunting opportunities. Unlike last year, duck clubs should also get the water they need. All in all, ducks and waterfowl hunters should find plenty of habitat in California this year."
Waterfowl habitat in the Klamath Basin is the notable exception to California's bountiful water year.
Lower Klamath, Tule Lake and Shasta Valley Wildlife Area remain largely dry this year, and it's uncertain whether those public lands in Northeastern California will be open to waterfowl hunting this season.
Ducks Unlimited continues to work with regulators, tribes, farmers and wildlife agencies to find common ground centered around bringing water back to wetlands in the Klamath Basin.
Ducks Unlimited Inc. is the world's largest nonprofit organization dedicated to conserving North America's continually disappearing wetlands. Established in 1937, Ducks Unlimited has conserved 16 million acres in the U.S. and more than 808,000 acres in California. For more information, visit www.ducks.org, and be sure to Follow DU's Twitter feed – @DucksUnlimited and @DUConserve – to get the most up-to-date news from Ducks Unlimited.
Media Contact:
Ryan Sabalow, Western Region - Communications Coordinator
(916) 805-1210
rsabalow@ducks.org