Brighter Future for Delaware's Bombay Hook NWR
DU helped enhance more than 500 acres of emergent wetland
Over the last four decades, Bill Stewart guesses hes made about 1,000 trips to Bombay Hook National Wildlife Refuge in Smyrna, Delaware, to spot and photograph birds of all types.
Stewart, director of conservation and community for the American Birding Association, grew up about 40 minutes from the refuge and still lives nearby. The 16,250-acre refuge, located off Delaware Bay, is where Stewart fell in love with observing waterfowl and shorebirds.
Its so user friendly, and everybody there is like-minded. They are there for what Bombay Hook has to offer. Its a major migratory stopping point and a biologically important area, he said.
The significance to ducks and geese is why Ducks Unlimited and the U.S. Fish and Wildlife Service have enhanced more than 500 acres of emergent wetland by replacing wetland infrastructure at Bombay Hook. Refuge staff can now exclude tidal saltwater from three freshwater impoundments managed to benefit migratory birds.
Coastal freshwater impoundments like these are one of the most import habitat features in Delaware for supporting waterfowl, said Jake McPherson, Ducks Unlimited biologist in Delaware. We should do what we can to improve the resiliency of these impoundments while we plan for their future, as they will eventually go away because of sea level rise, he said.
Bombay Hook was established in 1937 as a link in the chain of refuges extending from Canada to the Gulf of Mexico. It is primarily a refuge and breeding ground for migrating birds and other wildlife. Bombay Hook provides food and resources for waterfowl and other migratory birds and is recognized as one of America's 100 Important Bird Areas by the American Bird Conservancy.
We average 100,000 visitors a year and our freshwater impoundments are the main feature of our automobile tour route, said Oscar Reed, refuge manager at Bombay Hook. People can see shorebirds on the mud flats, and in the fall you can see large numbers of pintails, mallards, geese and more.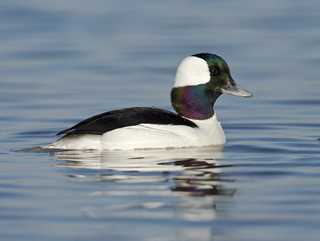 Stewart was excited about the Ducks Unlimited project and its potential for bird habitat on the East Coast.
Whether youre a kid or an adult, when I take groups there, its like a giant outdoor classroom, he said.
The project was funded in part by a North American Wetland Conservation Act grant and was implemented in partnership with the U.S. Fish and Wildlife Service. Conservation work continues at Bombay Hook, with forested wetland restorations scheduled through 2019. Support from corporate partner Axalta Coating Systems benefit Bombay Hook projects and continue to grow other conservation opportunities in Delaware Bay through Ducks Unlimiteds Completing the Cycle Initiative.