Breeding Grounds Master: A Focus Where It Is Needed The Most
The prairies of the North Central United States and Canada - and specifically the area know as the Prairie Pothole Region - are critical to Oklahoma waterfowlers. The vast majority of ducks that migrate through Oklahoma originate in this "duck factory".
The overall health of this habitat is directly proportionate to the health of our waterfowl migration and harvest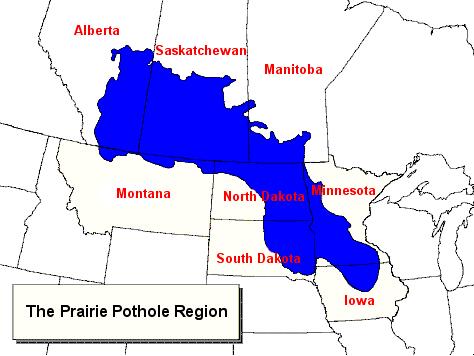 in Oklahoma.
Since our inception DU's #1 conservation focus area has been the Prairie Pothole Region. Our science tells us that there is no place on this continent where we can have a bigger impact on waterfowl populations than the prairies.
Unfortunately the Prairie Pothole Region continues to lose wetlands and adjacent grasslands at an alarming rate. Waterfowl need both wetlands and grassland to breed. Without widespread habitat conservation programs we will lose these vital areas that give life to our annual fall flight.
Given this fact, Ducks Unlimited will continue to keep our focus on protecting the Prairie Pothole Region today and into the future.
No conservation organization represents the interests of Oklahoma waterfowl hunters in the breeding grounds more than Ducks Unlimited.
Since 1937 DU and our conservation partners have conserved, restored or enhanced close to 6 million acres in the states and provinces that make up the Prairie Pothole Region.
This work has made a positive impact on the North American migration but more is needed if we are to guarantee the future of waterfowling.
The best way Oklahoma waterfowlers can support critical breeding ground conservation is by supporting their local DU events.
The funds raised through local DU events are the foundation of the organization's breeding grounds conservation work. In addition, they also offer "seed money" for Ducks Unlimited's Oklahoma-based conservation programs.
These revenues are leveraged several times with private and public funds to perform our unprecedented habitat conservation work in the breeding grounds and here in Oklahoma.