Bonnie and Keith Thames Volunteer Spotlight
Mississippi couple dedicated to conservation
Bonnie and Keith Thames of Columbus are two of Mississippi DU's dedicated sponsors and avid volunteers. Bonnie found her way to DU in the 1980s when her brother invited she and her first husband to a couples dinner. Keith, originally from Brookhaven and Bonnie's junior high sweetheart, came into the DU Family after escorting Bonnie to a 2011 major sponsor function in Jackson.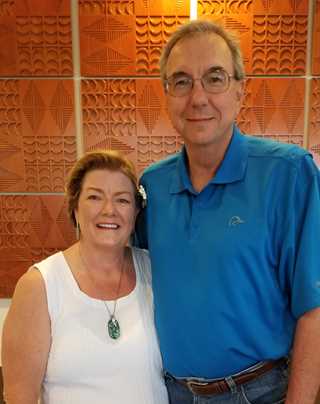 In addition to being Heritage, Grand Slam Life, and Gold Feather Society sponsors, the Thames are convention delegates and very active volunteers. There aren't many events in or around Mississippi where you won't find them attending and lending a helping hand.
"There are so many special people that are involved in Ducks Unlimited that we have become close to. We want to support them in their efforts to do good work in their communities," Bonnie explained. "We feel like they would do anything for us, and we want them to know that we would do anything for them."
Bonnie is a prime example of the way DU can connect non-hunters to conservation, too. Bonnie went duck hunting for the first time in 2018, more than 30 years after attending her first DU event and becoming a DU supporter.
"You don't have to hunt to believe in the cause," Keith said. "We believe in conservation, in doing something positive for future generations."
While their sponsor contributions have supported conservation projects from Canada to Mississippi, their most recent pledge was dedicated to the youth and education program.
"We believe we have to pass on our knowledge and passion for conservation," Bonnie explained. "God gave us this beautiful earth, and we must be good stewards to it."
When they aren't devoting their time to the ducks, the couple fills their free time with travel, riding motorcycles and "junk'tiquing." Besides hunting and fishing, they also enjoy riding the river on their pontoon boat and are avid Mississippi State University fans. In fact, Bonnie likes to borrow a slogan from MSU to describe DU.
"DU is leading the way, showing the world how to do waterfowl and wetlands conservation the right way. When more than 82 percent of the monies raised goes back into habitat, that's when what you do lsquo;Rings True'," she said.