Big River Park Conservancy
Opportunity awaits where the Delta begins
Ducks Unlimited (DU) is partnering with Big River Park Conservancy (BRPC), First Horizon, TennGreen, Mississippi River Cities and Towns Initiative (MRCTI) and several Memphis stakeholders, businesses, and donors to restore 1,500 acres of wetlands and to promote recreational and tourism opportunities in Downtown Memphis and nearby West Memphis.
Thanks to the generosity of First Horizon, DU received a grant of $1 million to support the BRPC project.
DU has pledged to raise $5 million for the Big River Park Conservancy project and the $1 million from First Horizon along with a $1 million anonymous donation is a great start toward meeting its goal. This unique project will re-establish native vegetation and re-create functioning bottomland hardwood wetlands paramount to the area's wildlife, water quality and healthy ecosystem.
This BRPC property is accessible from the nearby interstate, the Levee Trail and downtown Memphis via the Big River Crossing pedestrian bridge. This mosaic of field and floodplain forest provides a one-of-a-kind view of the city skyline and is a great opportunity to create a special place for wetlands restoration, recreational amenities and West Memphis tourism opportunities. An additional benefit of this property is the educational and interactive-program opportunities for children across the Mid-South. As of April 2021, more than 974,000 visitors have crossed the Mississippi River via the bridge on foot or by bicycle.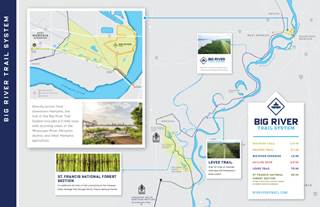 Memphis and West Memphis celebrated the Big River Crossing's fifth anniversary on October 22, 2021. At night, viewers can the observe the bridge's hundreds of configurations and patterns produced by more than 100,000 lights at the Crossing.
"The Mighty Mississippi is central to Memphis' identity." said Ducks Unlimited CEO Adam Putnam. "DU is proud of our Memphis corporate headquarters and we are especially honored to showcase wetlands conservation in our backyard and the benefit it brings to waterfowl, other wildlife and the millions of people who benefit from this work."
DU's national headquarters is based in Memphis, though there are regional offices across the United States. Over the past 85 years, DU has become the world's largest and most effective private, nonprofit, waterfowl and wetlands organization in North America. In 2020, DU surpassed an impressive milestone the conservation of 15 million acres of wetlands and associated uplands across North America. The habitat conserved by DU and its partners has made a tremendous positive impact on communities and wildlife across the continent.
World's Leader in Wetland &Waterfowl Conservation:
15 million acres and counting
To bring awareness to the project and celebrate the partnership, First Horizon and DU are teaming up to participate in the Peer Power Big River Crossing Race, a half-marathon and 5K scheduled for Nov. 6 through the Big River Park Conservancy trail system. Proceeds from the race will benefit the University of Memphis and Shelby County schools.
The Big River Trail System begins at the Big River Crossing and currently comprises more than 70 miles of riverside trails atop the Mississippi's levee system. Hikers and bikers can travel from Memphis to Marianna, Arkansas and anywhere in between, enjoying natural, open access to the Mississippi Delta environment. This trail is part of a cross-country trail using portions of the levee system from the Mississippi headwaters to the Gulf of Mexico. When complete, this trail will be an international cycling destination.
Stay tuned for updates about the project.