Arkansas's Flooded Forests Provide Inspiration for Giving Back
Reflecting on his college days, Ducks Unlimited Heritage Sponsor Josh Reed never realized how fortunate he was. Josh grew up in Northwest Arkansas, where back in the 1990s there were very few places to hunt waterfowl. While he was in college, his job was to pick up duck hunters at the airport in Little Rock and take them to Macks Prairie Wings in Stuttgart to get them outfitted. Josh would then take them to duck lodges in the area, where he had the opportunity to hunt with them. I got to hunt with these guys at these amazing places that had tons of birds, Josh remembers, and at the time I really didnt know how good I had it.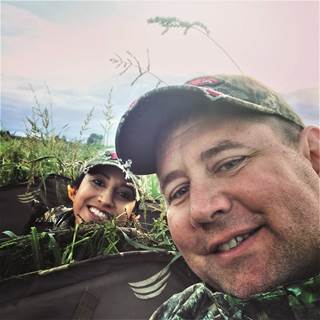 He was first introduced to Ducks Unlimited during this time, but he didnt think he could make a difference as a college student. As time passed and Josh got married, family obligations got in the way of his passion for the ducks. He and his wife, Kenhya, have two boys, Jaden, 15, and Jacob, 11. Both boys are actively involved in the Boy Scouts. Conservation has always been an integral part of the Boy Scouts program, and that is where Josh has refueled his passion for DUs conservation mission. I wanted to lead by example and show my boys that there is more to conservation than Leave No Trace. Although this is a very successful Boy Scout program, we can do more, Josh says.
Inspired by the amazing hunting in Arkansas and getting to hunt in the states flooded bottomland forests, he knew that was where he wanted to make a difference. DU is working with the Arkansas Game and Fish Commission and the Arkansas Game and Fish Foundation on a long-term plan to restore bottomland hardwood forests on public lands across the state. These forests are vital habitats for an abundance of wildlife, including wintering waterfowl. By investing in this important effort through DUs Americas River Initiative, Josh knew he could have a significant impact.
Josh and his family are making a difference for wetlands today and in the future. Being in a boat or on the side of a levee and watching the birds come out of the trees is an amazing thing to see and experience, Josh says. I want my kids to see and experience that too.