A Louisiana Conservation Legend
Major Sponsor Spotlight: Richard Lipsey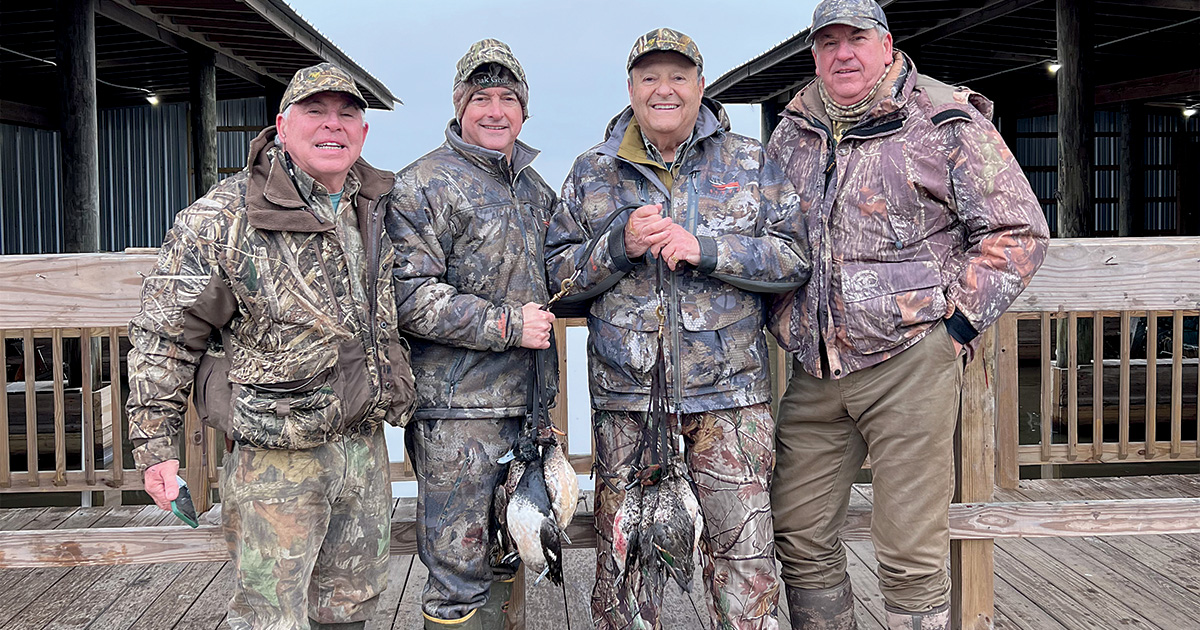 Richard Lipsey is one of the founding members of the Baton Rouge, Louisiana, chapter of Ducks Unlimited, established in 1961. Richard has lived a very full and rewarding life. A former military aide and first lieutenant in the Army, he was part of the team that stood guard during President John F. Kennedy's autopsy and while the slain president's body lay in state. An avid hunter, Richard is also a survivor of a close encounter with a polar bear while on a hunt in northern Siberia. He is patriarch of the country's largest independently owned, single-location firearms distributor, aptly named Lipsey's. Besides his family, his greatest passion is spending time at Oak Grove, a legendary duck hunting lodge in Creole, Louisiana.
Richard's father, Joe Lipsey Sr., moved the family from Alabama to Baton Rouge in 1943 to run the family business, Steinberg and Company. Business frequently took them to southwest Louisiana, where Joe became an avid duck hunter. During their hunts, Richard and his family often stayed with friends in Creole, leading them to meet Win Hawkins, a prominent businessman from Lafayette.
In the 1950s, after a hurricane destroyed the Oak Grove camp, Win rebuilt it, and in the process he and the Lipseys became great friends. Win was so proud of Joe and Richard for starting the DU chapter in Baton Rouge and leading the way for conservation that he promised them a membership in the club if a spot ever opened.
Joe Lipsey Sr. passed away in 1973 and unfortunately never became a member of Oak Grove. Richard resumed operations of Steinberg's upon his father's passing. One afternoon, Win walked into the Lafayette Steinberg's store and mentioned the promise he had made to Richard's father. That's when Richard became a member of Oak Grove.
Richard took over operation of Oak Grove in the late 1970s and turned it into what it is today—a lodge full of duck-hunting camaraderie, delicious meals, and a passion for DU. Richard knows the value of supporting DU because he has seen the Oak Grove duck lease benefit from the nearby Creole Marsh, Cameron Prairie, and Rockefeller habitat projects.
A leader in conservation in Louisiana, Richard was elected DU state chair in 1981, was honored at the Baton Rouge Sponsor Event in 2016 for his contributions to conservation, helped establish the Dale Hall Endowed Professorship in Waterfowl and Wetlands science at Louisiana State University, supported DU conservation projects in Louisiana and Canada, and received the Golden, Emerald, and Platinum Teal Awards.
Richard encourages everyone to join DU and support their local banquets and habitat projects. He believes we must continue to conserve wetlands for waterfowl throughout the continent. As Richard puts it, "It is vital that we provide these resources so that my children, grandchildren, and hopefully, great-grandchildren, and generations to come will get to enjoy the great outdoors and the experiences that I have all of my life."